Gold Sector Flashes Red Light As Dollar Rallies
The US Dollar Index is rallying above 94.50 this morning following a very strong retail sales report. The US dollar has formed a V-bottom since briefly falling below 92 earlier in this month – a major test near the ~95 level awaits and will offer a strong indication as to how serious this rebound in the dollar may be:
US Dollar Index (Daily)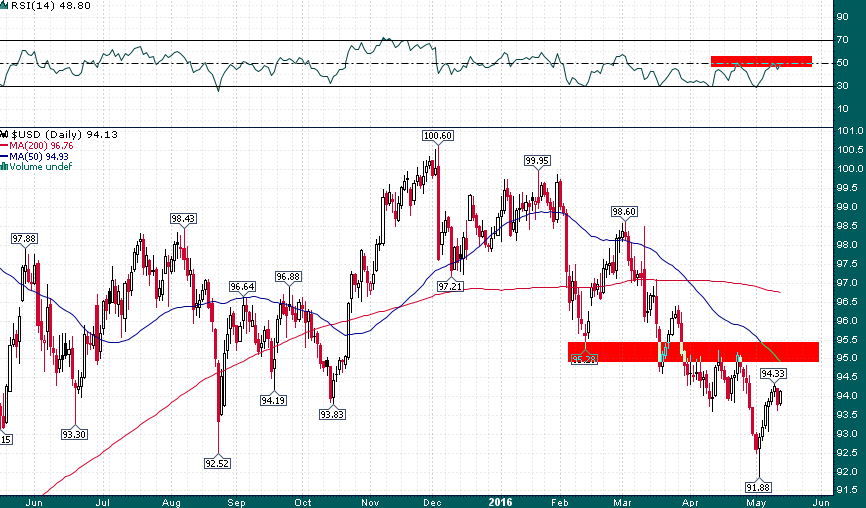 Meanwhile, the gold miners (GDX) continue to trade in a volatile range between roughly $23.50 on the downside and $25.50 on the upside:
GDX (Daily)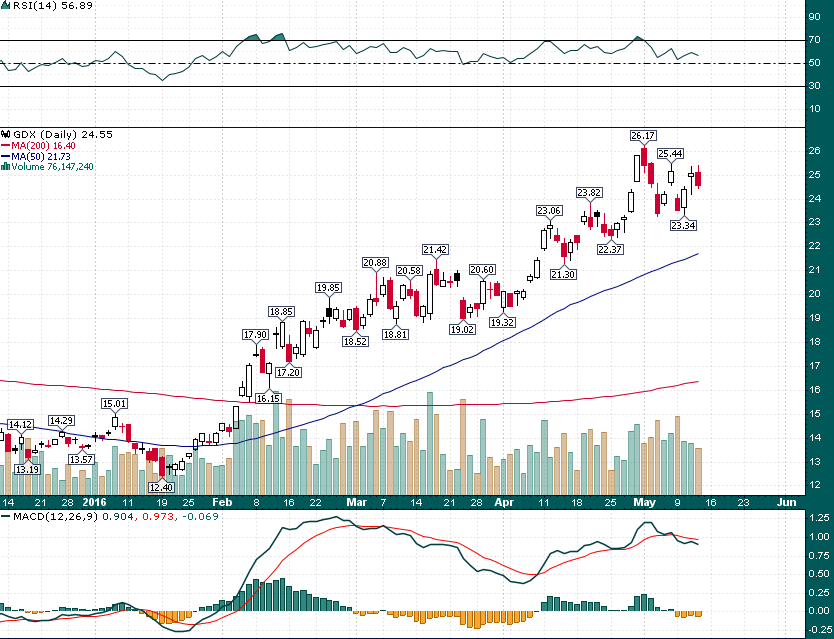 For the last several days I have been pointing out that this type of action is characteristic of a topping process. Here is some further clarity as to what I mean:
A market more than doubles in the span of less than 4 months.
Sentiment turns wildly positive and retail/speculative funds flow into the space to chase the move higher.
Price begins to make lower highs amid extremely volatile day-to-day price action.
Volume and dollar-weighted volume is well above the multi-year average as increased participation leads to churning and distribution.
The ownership in the sector transitions from stronger hands to weaker hands (those who are looking to profit from the next 10% of upside) which makes the sector much more susceptible to a downside correction once investors' perceptions change ever so slightly.
With total assets in the NUGT 3x levered bullish gold mining ETF rising by more than 50% in the last couple of months and net speculative length in gold futures reaching near record levels we have all the evidence we need to know that the hot money is aggressively betting on a larger rally in the gold sector. With price notably diverging from sentiment and fund flows in the last couple of weeks we have the first flashing red light warning signal that gold and the miners are ready for deeper correction or at least an extended pause after a breakneck rally to begin 2016.
We took a short position in GDX yesterday in the Trading Lab over at
CEO.CA
. To get our analysis and trade updates in real time and our morning email sent to your inbox each market morning click to button below and sign up!