Arena Minerals: Honing in on an Economic Copper Porphyry in Chile
Arena Minerals (AN.V) released drill results from its Jogmec JV which served to further confirm that they have identified a copper porphyry system which they simply have to zero in on with further drilling. Arena plans to spend a combined US$6.4 million during the first half of 2016 on drilling and its Japanese JV partner, Jogmec (Japan Oil, Gas, and Metals National Corporation), has applied for and plans to drill at least an additional 280 holes around the Pampa Union Property in order to clearly zone in on the intrusive body which hopefully hosts significant copper mineralization.
Yesterday we had the opportunity to connect with Arena Minerals CEO Will Randall in Argentina for further color on the company's drill results and Arena's plans for the first half of the year.
Will Randall: Yesterday's results were similar to the first half of the Jogmec results in that we hit another porphyry system. the way these work is a main system of intrusive bodies with certain alteration halos around these intrusive bodies. Once you hit the alteration halo around it you try to zero in with further drilling to see if we can hit the intrusive, and if we do, is it mineralized?
The one we hit last time, which we released in December last year, was a little more intense than this one which means that we are closer to the actual intrusive which could host the copper mineralization. This one was a littler farther away so that means we have to zone in over a larger area, however, there is a good indication than when we do zone in it will have good copper mineralization because we're already getting .1%-.2% Cu on the fringes.
The direct comparison is the Spence Hole only a few kilometers away from where we are drilling now, which was something like 0.2% Cu over 6 meters. They followed up that drill hole with 10 more holes around it and then on the 10th hole that's when they actually hit the intrusive center with economic intervals.
We have another set of results coming and by March/April we should be drilling again around these two discovery areas to try to zone in on the actual intrusive body.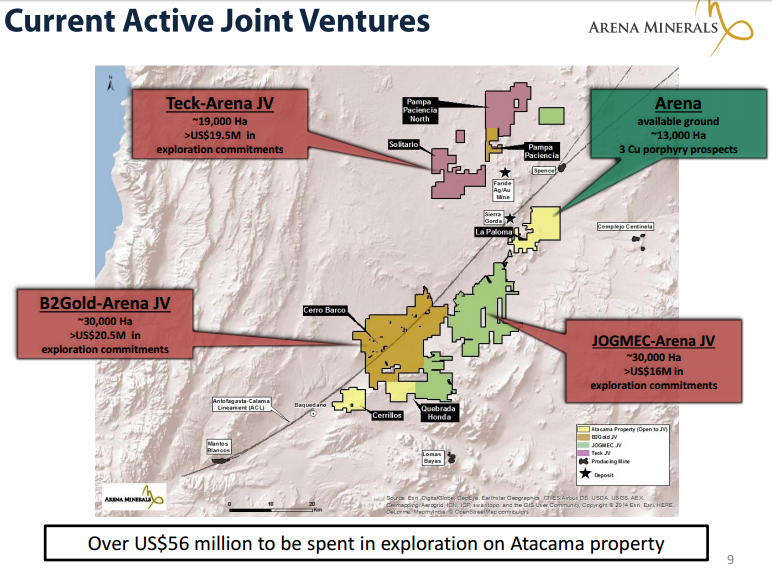 CEO Technician: Basically, you guys are pleased with your results? And what does it cost you roughly per meter drilled?
Will Randall: Absolutely, to my knowledge there hasn't been a single new porphyry identified in that area since Spence. Jogmec is already applying another 280 drill holes around these areas. It's a significant spend and commitment on their part, which is way above their minimum spend according to our JV agreement.
Our cost per meter is roughly US$70/meter and obviously some holes go 100 meters while others extend to 300 meters.
CEO Technician: What are Arena's goals for 2016?
Will Randall: This the year that all three joint ventures will be operating and drilling at the same time; all three of them combined we have to spend US$6.4 million minimally, which means that all three of them will be drilling at the same time. Our goals on the Jogmec JV (the Japanese JV) are to follow up on these 2 discovery areas which we have identified in our recent drilling and zone in on the actual intrusive body and the potential copper mineralization. Hopefully at least 1 of the 2 systems has an economic intersection which would obviously make a huge difference.
On B2 and Teck, Teck has two very clear porphyry targets and B2 has another one, those two drill campaigns are in the first half of this year and we expect results from them in the coming months.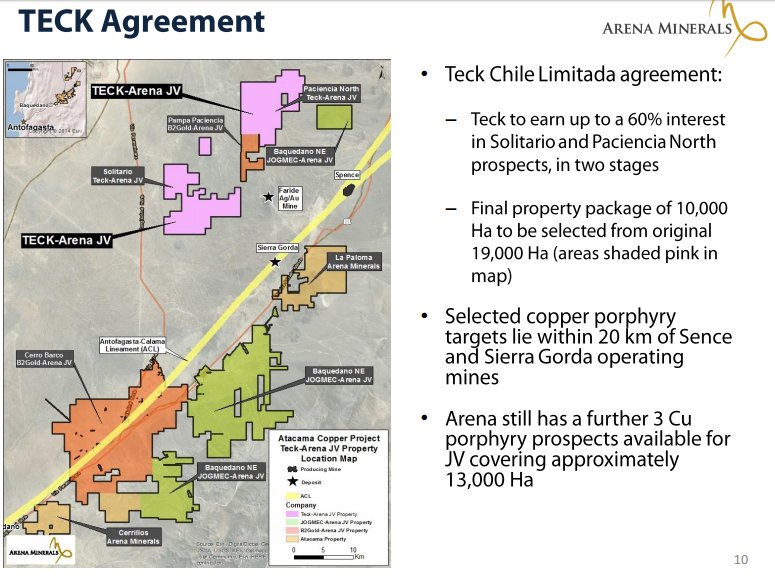 Arena's stock reversed Wednesday's losses on heavy volume during Thursday's session in a sign that perhaps the market realized that not only were the drill results not disappointing, but they in fact confirmed that Arena's drilling is on to something in terms of delineating a mineralized copper porphyry system. We look forward to continuing to follow Arena and updating readers on the impressive drill program that Arena has slated for the first half of 2016.
Disclaimer:
The EnergyandGold.com employees are not Registered as an Investment Advisor in any jurisdiction whatsoever. EnergyandGold.com employees are not analysts and in no way making any projections or target prices. Neither the information presented nor any statement or expression of opinion, or any other matter herein, directly or indirectly constitutes a representation by the publisher nor a solicitation of the purchase or sale of any securities. The information contained herein is based on sources which we believe to be reliable but is not guaranteed by us as being accurate and does not purport to be a complete statement or summary of the available data. The owner, publisher, editor and their associates are not responsible for errors and omissions. They may from time to time have a position in the securities mentioned herein and may increase or decrease. Please always do your own research. Copyright All images in this document are copyrighted by the concerning companies. The company data was fetched from the according Stock Exchange (TMX charting) of the company or company presentations. Still, the owner, publisher, editor and their associates are not responsible for errors and omissions concerning this data. Important This document is distributed free of charge, and may in no circumstances be sold, reproduced, retransmitted or distributed, without written consent from EnergyandGold.com.