As Gold Rallies From Major Bottom – Sabina Set to Outperform
Sabina is fully funded through environmental assessment and permitting phases
World class management team with history of success in bringing Arctic projects to acquisition and/or production
Completed feasibility study with 24.2% post-tax IRR at US$1,150/oz gold price
Back River life-of-mine all-in cash cost of US$763 per ounce
One of the best performing junior gold explorers of 2015 – ranked as one of the strongest stocks in its universe by Canadian Insider
Gold in US dollar terms has lost nearly half its value since peaking above $1900/oz in August 2011. While most investors have become disillusioned on the precious metals space during the recent cyclical bear market, there are strong signs that a major bottom may have been put in place during the last couple of months. Just as most investors & analysts were concerned about the specter of Fed rate hikes and a tightening of monetary policy, gold hammered out an impressive chart pattern bottom:
Gold (Daily)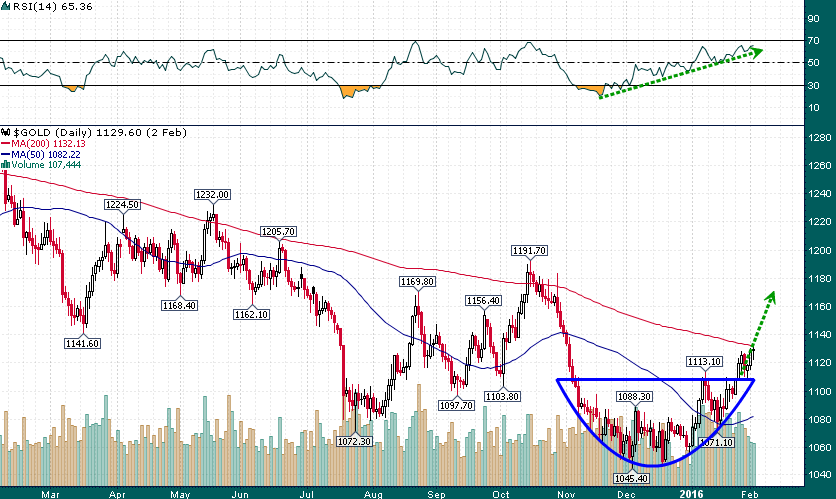 Breakout from rounding bottom pattern targets $1170-$1180 area – momentum and volume divergences at December low add weight to the case for a bottom being in place.
While the US dollar price of gold may have just made a major low, gold has been performing exceptionally well in other currencies, such as the Canadian dollar: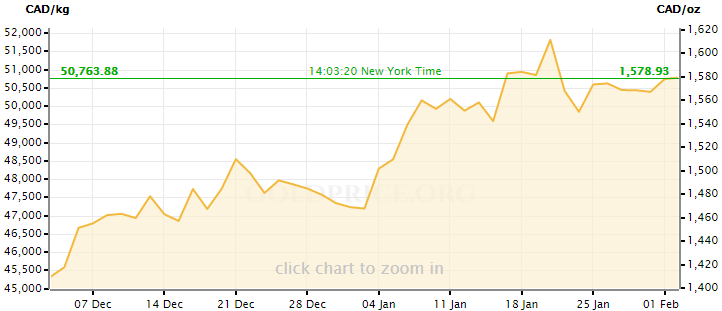 Canadian gold producers have a unique advantage given current currency trends. Canadian miners incur costs in Canadian dollars and the value of their mined product (gold and silver) remains strong in local currency terms. We believe there is an exceptional opportunity to invest in the highest-quality Canadian gold & silver explorers as the deepest and longest cyclical bear market in the history of the junior mining sector transitions to a nascent bull market.
Enter Sabina Gold & Silver (SBB.TO). During one of the most challenging markets in the history of the junior resource/precious metals space, there aren't many explorers who have continued to advance projects towards production. Moreover, there are even fewer who can say that their stock price has doubled in the last year. Sabina Gold & Silver (SBB.TO) can make both claims.
Sabina has average gold grades above 6 grams per tonne, making Back River one of the highest-grade gold projects in the Americas not owned by a producer. The deposit hosts more than 5.3 million ounces Measured and Indicated and a further 1.8 million oz Inferred and the "initial project" Feasibility Study outlines a world-class open-pit resource with a projected 12-year mine life.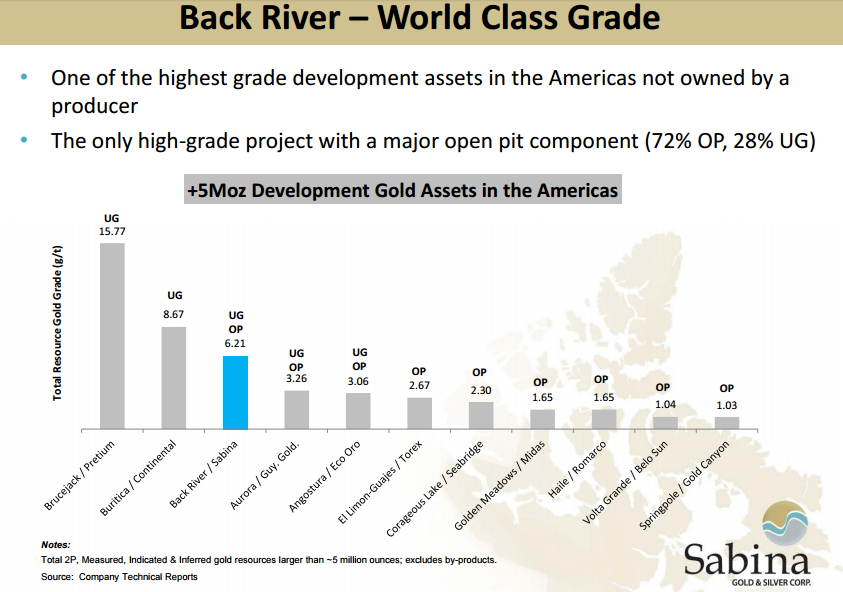 Sabina has spent $400 million advancing the Back River Gold Belt and as can be seen from the graphic below Sabina has moved a significant number of ounces into the reserves category during the last few years: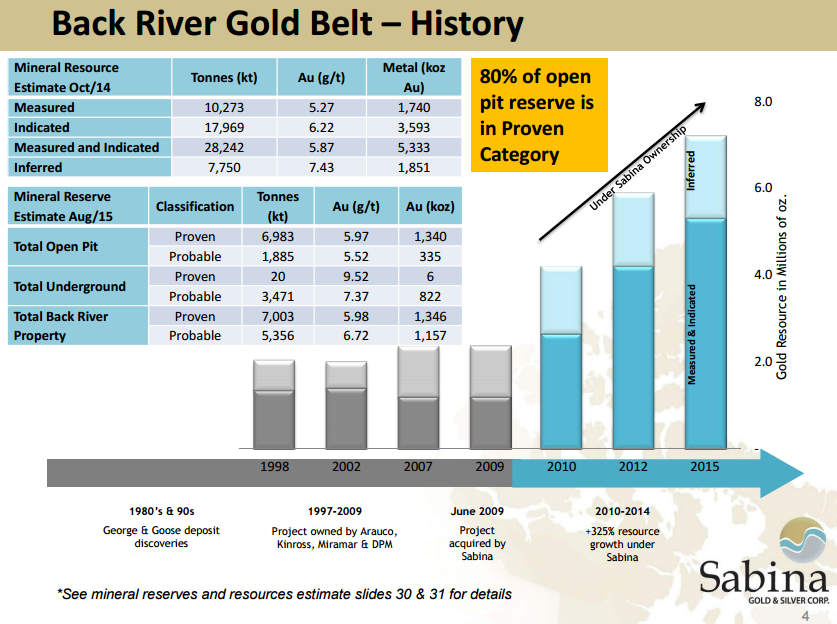 Despite exceptional progress in advancing Back River through the feasibility stage and to the permitting stage Sabina's valuation remains at a discount to its peers: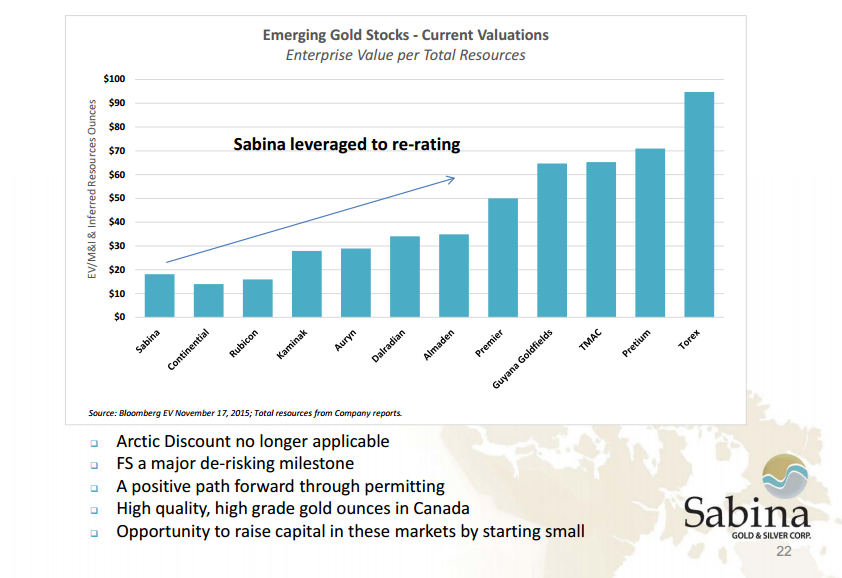 For Sabina, 2016 is primarily about permitting. However, the 2016 exploration season adds some spice; 2016 drilling is focused on following up on high-grade outcrop results at surface very close to the planned mine. That could materially add ounces — not that Sabina needs it. Back River is already massive but it is a district-scale story and a mine with a long, extendable life.
Meanwhile, CEO Bruce McLeod has been a consistent buyer of Sabina's stock in the market and Sabina ranks among the strongest stocks in the Canadian market by Canadian Insider. Sabina also has one of the more bullish charts in the universe of junior exploration stocks which we follow: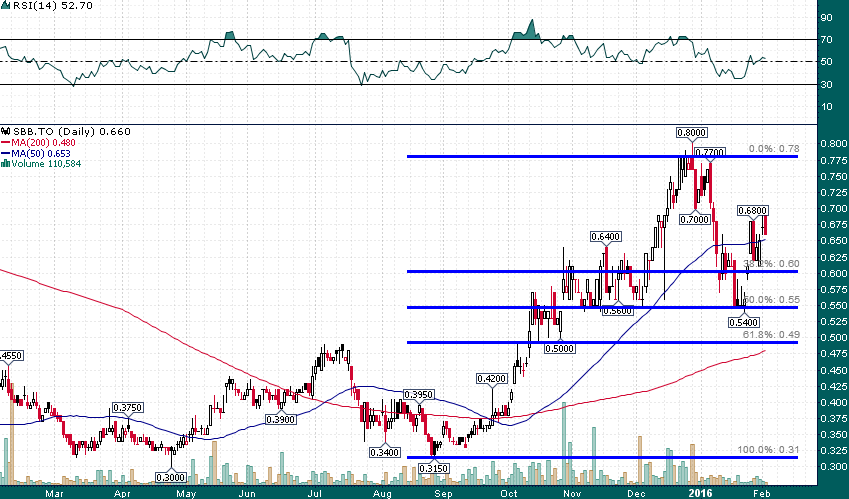 The rise from August to December of last year occurred on high volume and the recent pullback retraced ~50% of the August-December rise, on light volume. This is bullish and healthy price action. The $.55 level is important support while $.80 is the next big upside level followed by the round number "psych level" of C$1.00.
It is clear that Sabina's outperformance relative to its peers is a vote of confidence in an exceptional management team and the quality of the Back River Gold Project: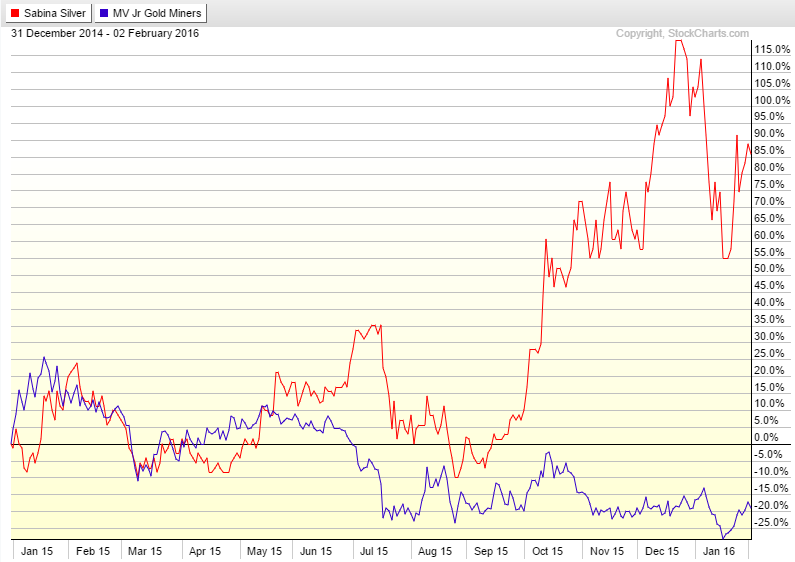 CEO Bruce McLeod sums up the Sabina investment opportunity quite nicely:
"Our work in 2016 will enable us to deliver significant catalysts for the Back River project. With a strong Canadian dollar gold price (C$1,580/oz versus C$1,380/oz used in the Feasibility Study) and weak oil price, we have been presented with a unique opportunity for optimization of our Project. Efforts towards value engineering to enhance the economics and/or reduce risk on the project are ongoing. We are also entering into the final stage of a comprehensive environmental assessment and are anticipating a project recommendation in the second half of 2016 which will be a major milestone in de-risking the project. In addition, We are excited about the many high value exploration targets which have the ability to further enhance the Goose project and work in 2016 is designed to quantify some of these targets."
As the permitting process moves forward, exploration continues to enhance the scale and quality of the resource, and the gold price continues to firm up Sabina shares are set to outperform in 2016.