The Gold Miners Are Acting Like This Time May Be Different
One month into the new year the gold miners (GDX) are the 2nd best performing equity sector of 2016 (utilities are the top performing sector) with a 3.6% gain. However, considerably more impressive is the 18.15% rally in the two weeks since GDX printed a fresh all-time low on January 19th.
GDX is attempting to 'break out of the box' for the third time in the last couple of months and there are signs that this time has a better chance of success than the last two:
GDX (Daily)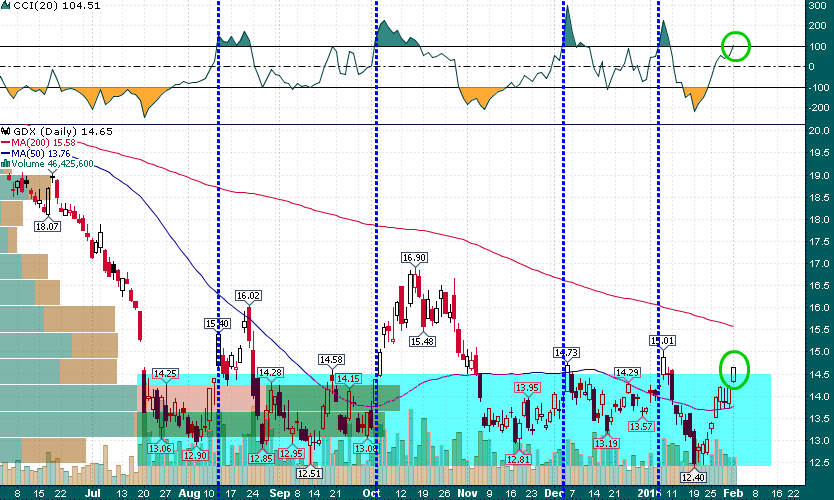 A couple of things stand out about the current rally:
The steepness and conviction of the rally (more than 18% in 9 trading sessions with price closing at, or near session highs in 5 of the last 6 sessions)
The Commodity Channel Index (CCI) moved above 100 today (a level which can indicate that a security is becoming overbought, but is also characteristic of strong trends); rallies usually continue for at least one more day after the CCI initially moves above 100 (see blue dotted lines)
Perhaps the simplest and most important observation is that GDX has essentially been trapped in ~10% range ($13-$14.50) for the last 7 months and each time that price has attempted to break-out or breakdown it has quickly reverted to the mean. The huge amount of volume churned within this relatively tight range translates to a huge amount of 'potential energy' – the failed breakdown to a fresh all-time low a couple of weeks ago followed by the current brisk rally offers a strong possibility that this range is on the verge of resolving to the upside.
Read also: The Last Couple of Times This Happened The Gold Miners Got Crushed