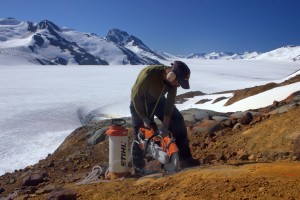 By James Kwantes via CEO.ca
In a horrific market for junior mining companies, IDM Mining CEO Rob McLeod was feeling optimistic ahead of his trip to the annual Precious Metals Summit in Beaver Creek, Colorado. Accompanying him to Colorado was IDM chairman Mike McPhie.
I caught up with McLeod for a coffee earlier today, before he left. On his agenda were 24 meetings lined up for Beaver Creek – and those were just the ones scheduled.
Financing is the main missing piece for IDM's high-grade underground Red Mountain gold project in northwestern B.C.'s Golden Triangle.
The good news, for IDM, is the company is modelling a small but scalable gold mine at Red Mountain. It's a 17,000-hectare property and McLeod knows it well, having started his career there 20 years ago.
"The plan is to get in there, get operating and the ounces will come," he said.
And even in this depressed market, there will be money available, sharpened pencils and shopping lists at Beaver Creek. On the buy side, joining the usual lineup of funds are both mid-tier and large gold mining companies checking out projects and ways to replenish depleting reserves. Among them are Goldcorp, Newmont, Agnico Eagle and Yamana Gold.
IDM is at the permitting and engineering stage with Red Mountain ahead of a pre-feasibility study expected next year.
The company has a good relationship with the Nisga'a First Nation, McLeod says, and has applied to the federal government for the streamlined "substitution" option – meaning Ottawa would green-light the mine if the provincial government approves it.
Red Mountain is near Stewart and about 17 kilometres from the U.S. border, but all the drainage from the mine area is into Canadian waterways, McLeod says.
"It's really a simple, straightforward project."
McLeod expects a decision on the streamlining option next month once the federal election is over.
Another potential catalyst on the horizon is an updated resource estimate expected later this year. The current resource estimate is 380,000 oz gold measured and indicated, at average grades of 8.15 g/t, and almost 1.4 million oz of silver M&I.
The PEA published in July 2014 models a 5-year mine life and annual production of 55,500 oz Au and 170,000 oz Ag, at average cash costs of about $US$516 an ounce.
But exploration potential is "phenomenal," added McLeod, who named the company IDM to honour his miner father, Ian McLeod, and uncle Don.
IDM is trading at 9.5 cents, near the bottom of its 52-week range of .08 – .43. Major shareholders include Lake Shore Gold and Delbrook Capital (each 19.9%) as well as Seabridge Gold at Kinross at 4.5%.
Join Rob McLeod and other investors and executives at chat.ceo.ca. Watch for live updates from the Precious Metals Summit, which runs Wednesday to Friday, and the Denver Gold Forum, which runs Sept. 20 (Sunday) through Sept. 23.