Producer Hedging Set to Cap Crude Gains
We are seeing a very interesting dynamic take hold in crude oil futures markets: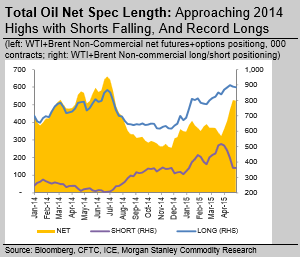 In recent weeks we have witnessed a confluence of forces; speculators have covered shorts in large numbers while also aggressively adding to long positions, meanwhile, producers have hedged aggressively by selling futures contracts in order to lock in prices. To be certain, this is not a bullish combination. While oil prices may have a bit more lift over the next couple of weeks as traders anticipate a strong summer driving season, we should see a short/intermediate term top put in place somewhere in the $65-$70 range over the coming weeks: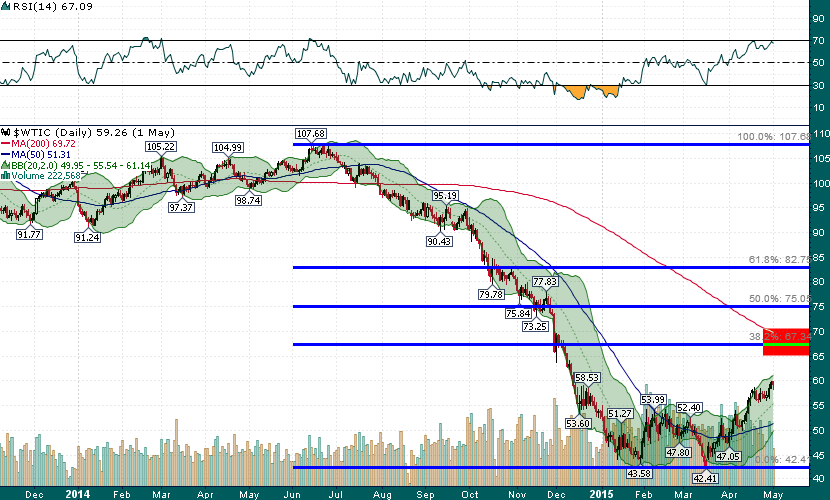 The confluence of the falling 200-day moving average, the 38.2% Fibonacci retracement of the June-March crash, and previous support from the initial November 2014 sell-off should offer stiff resistance. While it is likely that the March low will hold for some time to come, we are far from anticipating a V-bottom. A messy rangebound trade between $50-$65 is our baseline scenario for the remainder of 2015 with rallies capped by aggressive producer hedging and sell-offs finding support from solid consumer demand at sub-$2.50 gasoline.