US equities have come under heavy pressure this week after the small-cap Russell 2000 post yet another all-time high last week. There are more than a few signs that all is not well for equities, however, the situation is not yet dire:
The recent uptrend in IWM is currently being tested and there is a very important area of confluence just below in the 120.00-121.00 area: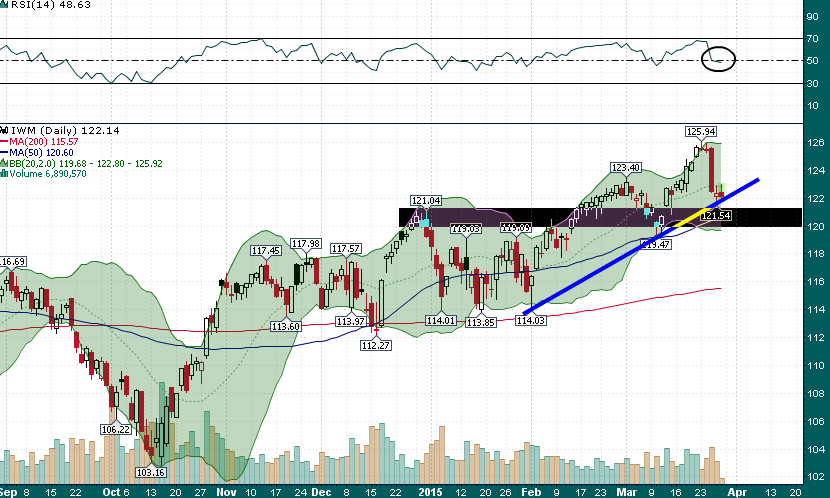 In addition, the daily RSI(14) has just moved below the median line (an area which it has found support at recently).
Also notice that the daily RSI(14) did not even reach 'overbought' territory above 70 at the recent all-time highs and the money flow index (MFI-14) also has not reached overbought levels since the October-November rally. This is an indication of a weak rally with relatively narrow participation, the sort of move that can be quickly reversed.
We are in a seasonally soft period for the next couple of weeks before small caps move into one of the most bullish periods of the calendar year:
Meanwhile, the S&P 500 (SPY) has formed a double top with the same momentum and volume divergences as we saw in the Russell 2000:
The all-time high of 2119.59 posted in the S&P 500 during February was made on extraordinarily light volume. A test down to the 200 area on SPY (roughly 2000 on the SPX), which coincides with the rising 200-day simple moving average, seems quite likely over the coming days. With month end/quarterly rebalancing set to unfold Monday & Tuesday in addition to the aforementioned technical dynamic, next week is shaping up to be a crucial one.