A couple of charts from Dundee Research highlight the relative cheapness of Continental Gold (CNL.TO) shares even after yesterday's groundbreaking environmental permit approval announcement by its neighbor Red Eagle Mining (RD.V):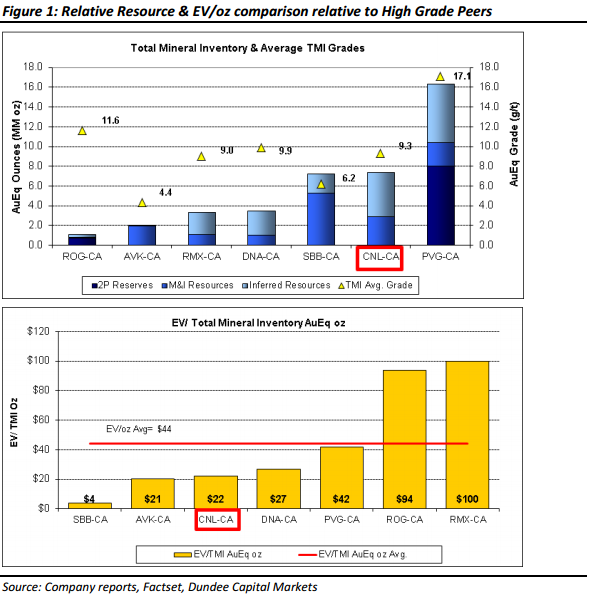 Continental's Buriticá  project is high-grade and relatively good size (with plenty of room to grow it to over 10,000,000 ounces through additional drilling), however, the market isn't giving CNL much credit for the quality of Buriticá in CNL's share price. Even after yesterday's hugely positive Red Eagle permitting announcement CNL shares have come under renewed pressure along with the gold sector as a whole: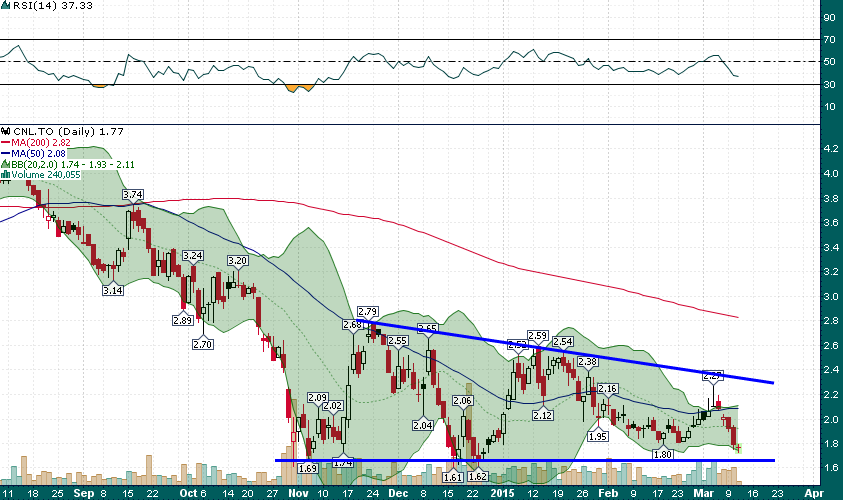 CNL has been forming a descending triangle since the October/November lows – each rally has been successively shallower and shorter (bearish). It will be crucial for support in the 1.60s to hold and a higher high to be made (above the March high of $2.27) for the pattern to resolve higher (targeting $3+).
Dundee concludes its report with the following assessment: "Our CNL target price of $5.00 is based on 0.8x NAV at a long-term gold price of US$1,325/oz and a 5% discount rate" – The $1,325/oz long-term gold price assumption is obviously the key variable here. Should gold soar back above $1,300 I believe that CNL will be one of the best performers in the junior exploration space. However, should gold continue floundering in the $1,100s or actually fall even further then it is anyone's guess how long it will take Buriticá to be advanced to production or what the terms of financing will be…