Some market commentators like to post bold headlines that make outrageous claims such as "Stock Set to Double in 3 Months" etc. While I do expect the junior resource sector to trade at multiples of current levels over the coming years, I prefer to deal in the reality of the next few months.
The TSX-Venture has begun exhibiting some constructive signs during the past couple of months after a brutal 70%+ decline from the 2011 peak: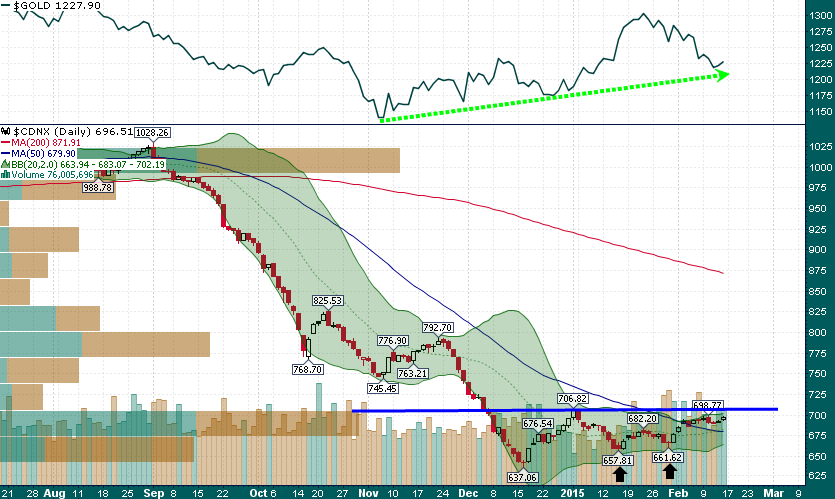 Consecutive higher lows as well as clear signs of accumulation during the past couple of months. However, it is most notable that the Venture has clearly diverged from gold in recent weeks; as gold has tumbled nearly $100/oz since late-January the Venture Index has actually RISEN! This is an important divergence that is highly unusual given the strong positive historical correlation between junior resource equities and the price of gold:

The correlation between the TSX-V and gold has moved from roughly 80% to -36% in just the past couple of months. This is probably the most significant positive development in the junior resource sector in several years and could be an indication that investors are finding deep value in the sector and are much less concerned with short term precious metal price fluctuations.
A breakout above the 707 level on the TSX-V could easily set in motion a powerful 10-20% rally in the index over a very short period of time. Moreover, with a monthly close above the 800 level we can probably say that the worst is behind us for the most vicious cyclical bear market in the history of the junior resource sector.