Why This Crude Rally is Different
Last week we highlighted 6 positive signs for crude oil. As it would turn out less than 48 hours later crude would briefly break below $44 only to quickly reverse sharply higher and end the week above $47/barrel: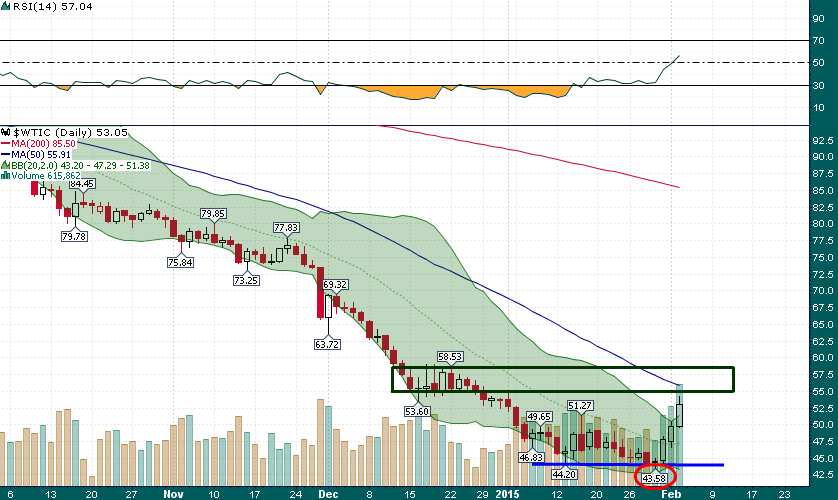 As the saying goes, "from false moves come fast moves", and the current 25%+ rally in just 3 trading session only serves to add further evidence of this. What's even more impressive about the current rally is that volume has increased on each subsequent day and the 14-period daily relative strength index is breaking out to multi-month highs and still has plenty of room to move higher before reaching 'overbought' territory.
$56/barrel looks like a minimum upside target for this move, with the $58-$60 area well within the realm of possibility:
While I won't go as far as Bloomberg did by proclaiming a new bull market in a headline from earlier today, I will go out on a bit of a limb by saying that the $43.58 low should hold for some time to come. During the past couple of weeks sentiment on crude was the worst it had been in decades. In addition, marginal new lows that quickly reverse to the upside often mark important intermediate-to-long term market turning points. We may have just witnessed such a turning point in crude oil.
At the end of last year I posted a list of 6 big surprises for 2015, the first half of surprise #3 has already taken place and now it is time for the second part to come to pass…