Summa Silver: Fresh Eyes On A Prolific Nevada Mining District
The story of Tonopah, Nevada, one of the largest producing silver districts in North America between 1900 and 1920, is one for the ages. On a chilly Nevada night in May 1900, Jim Butler's mule wandered away from him. When he found the mule, he noticed outcropping rocks that appeared to be heavily laced with silver. Butler was at a desolate place called Tonopah Springs, Nevada.
Butler believed he had discovered an important silver deposit and took a number of samples. The assayer in nearby Klondike, Nevada disagreed and told him the samples were worthless, consisting mainly of iron, and he threw them into the back of his tent.
This is where Butler's conviction that his find was genuine changed history. On his way back to his ranch, he stopped by Tonopah Springs to gather more samples. Back at his ranch, Butler put the samples on his windowsill. Soon thereafter, Tasker Oddie (later to be governor of Nevada) stopped at the ranch and spotted the ore samples. He offered to pay for another assay to which Butler agreed. Butler, in turn, offered Oddie a quarter interest in the assay. Oddie agreed. He took the ore samples to William Gayhart, an Austin assayer, and offered Gayhart a quarter interest in his quarter. Gayhart found the assay ran as high as $600 a ton!
Remember this was when silver was $1 per ounce, so $600 a ton meant the samples graded as high as 600 ounces per ton! These grades are absolutely unheard of in the modern mining environment in which 600 grams/ton is considered to be high-grade silver ore.
Butler would eventually file on eight claims near the Tonopah Springs. Six of these – Desert Queen, Burro, Valley View, Silver Top, Buckboard, and Mizpah – turned into some of the biggest producers the state of Nevada has ever had.
The town of Tonopah quickly sprang up, and in 1902, the Tonopah-Belmont Mining Company was formed. The town of Tonopah eventually grew to a population of 10,000, and mine production from the district totaled more than US$120 million worth of gold, silver, copper, and lead between 1900 and 1921. After 1923, mining activity in Tonopah dried up, and the Great Depression of the 1930s followed by World War Two essentially ended all mining activity in Tonopah.
Then in 1968 Howard Hughes and his Summa Corporation bought 100 claims in Tonopah, including the Mizpah, Silver Top, and Desert Queen mines. Hughes held these claims throughout the 1970s, but he never did anything with them. Limited drilling on the Hughes claims was carried out by Echo Bay in the late 1980s, but low gold and silver prices in the early 1990s halted any activity by Echo Bay in the Tonopah District.
Fast forward to today, and a Canadian junior exploration company, aptly named Summa Silver (CSE:SSVR, OTC:SSVRF), has consolidated the Hughes Claims for the first time since Howard Hughes held them in the 1970s.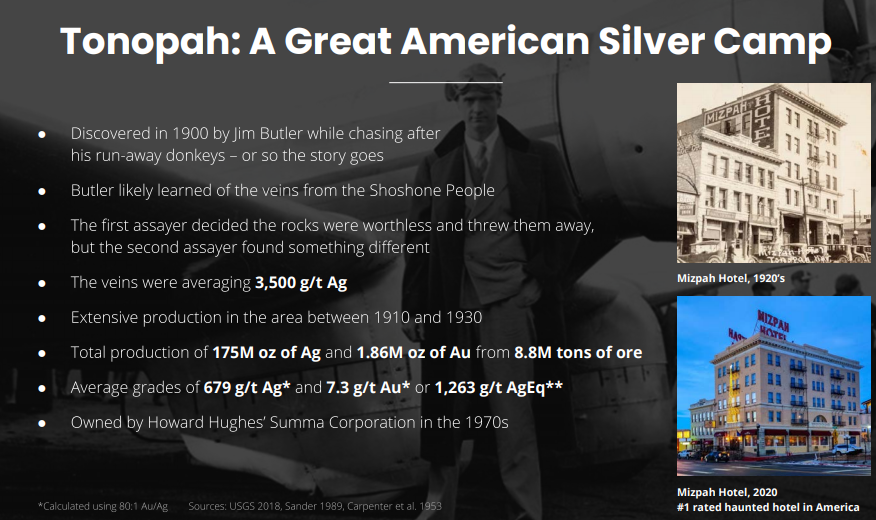 Summa's claims package in Tonopah stretches across 2,689 acres with 5.5 kilometers of total vein strike length consisting of dozens of epithermal veins (with some veins measuring up to 15 meters wide).
Tonopah lies in the prolific Walker Lane Trend of Nevada, which has a mineral endowment of at least 80 million ounces of gold and 700 million ounces of silver. The state of Nevada speaks for itself as a top-3 ranked mining investment jurisdiction globally.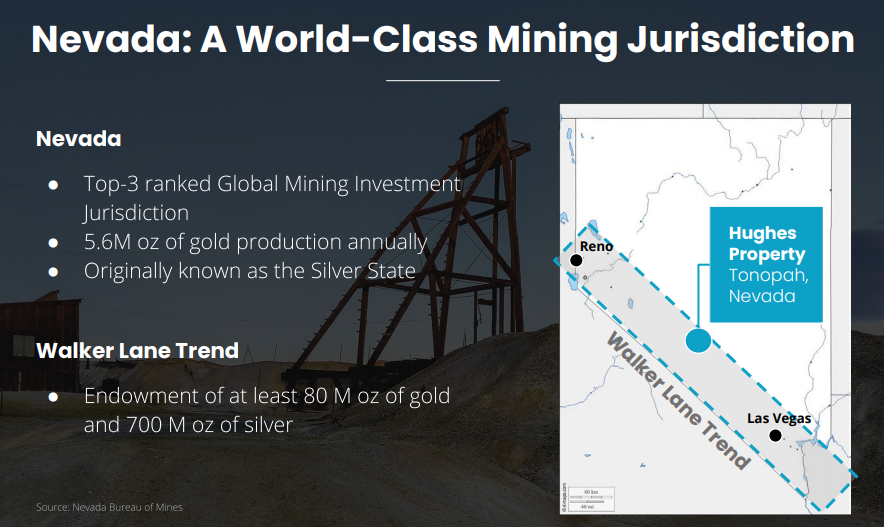 When I visited Tonopah in August I was struck by the excellent infrastructure in the area, the close proximity to a major highway, and powerlines running right through the property.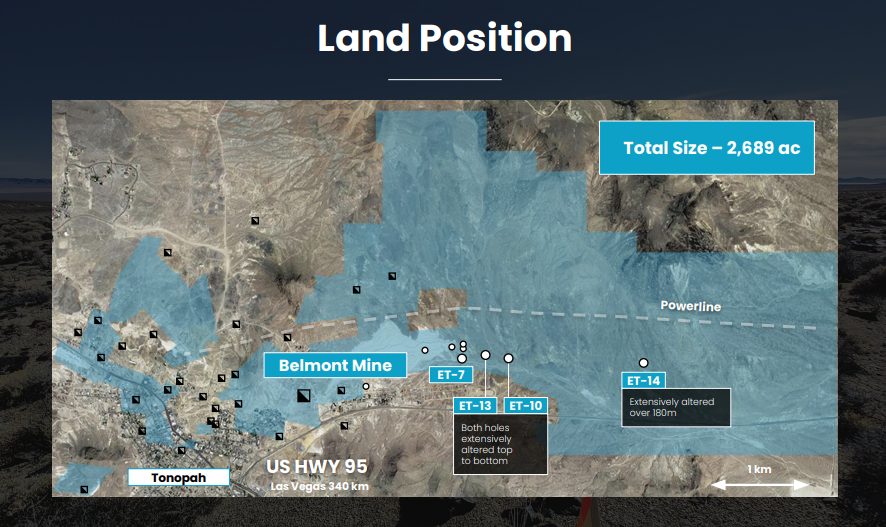 Summa has the east side of the Tonopah District, with Blackrock Gold (TSX-V:BRC) holding the western side of the district. If an investor were to own these two companies, then they have exposure to the entire Tonopah Mining District. BRC and SSVR's claims are adjacent to one another in and around the town of Tonopah, however, BRC's claims extend out to the west and SSVR's claims extend out to the east.
There are several interesting aspects of SSVR's claims package, including:
The Belmont Mine – a major past producing mine that was shuttered in the 1940s. There has been no modern assessment of the remaining potential at Belmont as the mine was abandoned in the late 40s and it has seen no modern exploration.
The Mizpah Extension – an area extending out to the east in which the old timers ran out of oxygen in the underground adit and ended historic mining activities in mineralization

The Ruby Target – Drilling into the valley to the east of the Halifax Fault near where Echo Bay drilled a narrow intersection of high-grade silver in 1989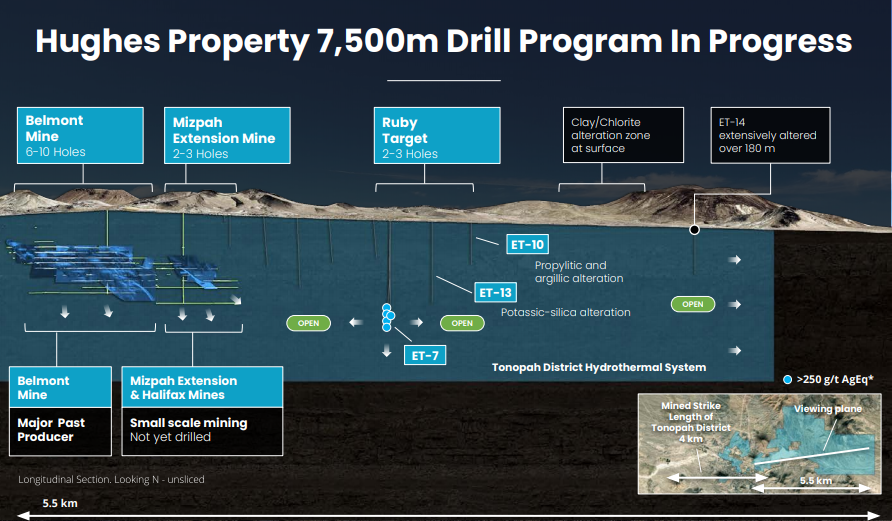 Summa began its summer drill campaign in and around the Belmont Mine and Mizpah Extension, in the last week drilling was completed at the Ruby Target. In August, I stood atop the Belmont Mine overlooking the vast valley to the east, the Ruby Target is an impressive 2+ kilometer step-out from the known mine workings around Belmont.
Another Echo Bay hole from 1989, ET-14, intersected extensive alteration over 180 meters of core length. Alteration is characteristic of a hydrothermal event which means that the Tonopah Hydrothermal System likely extends well out to the east across Summa's largely untouched claims package.
Summa has a young, energetic, and brilliant management team led by CEO Galen McNamara. Mr. McNamara was the Co-winner of the 2018 PDAC Bill Dennis "Prospector of the Year" Award and 2016 Mines and Money Exploration Award. He was instrumental in the discovery and delineation of multiple high grade uranium zones as senior project manager for NexGen Energy (TSX:NXE).
Technical advisor Garrett Ainsworth is a highly accomplished Geologist and mining executive with more than $300 million in financing completed throughout his career. He also played a key role in two large discoveries for which he was awarded the 2018 PDAC Bill Dennis "Prospector of the Year" Award, the 2016 Mines and Money Exploration Award, and the 2013 AMEBC Colin Spence Award.
Summa launched with a bang earlier this year and its share price benefited tremendously from silver's surge from $15 to nearly $30 between April and August; Summa shares rose from $.40 in late-May to a high of $3.50 in August. The precious metals correction since August has weighed on Summa's share price, bringing it back down to a recent low of $1.17:
SSVR.CA (Daily)
The decline in the share price has brought it back close to the level at which Eric Sprott invested C$5 million two months ago.
Last week, Summa delivered results from its first 3 holes at the Hughes Property in Tonopah, Nevada. The results were decidedly good, including a headline interval of 3,760 g/t silver equivalent (1,762 g/t Ag and 19.99 g/t Au) over 2.5 meters from 347.1 meters within 596 g/t silver equivalent (286 g/t Ag and 3.10 g/t Au) over 18.5 meters from 347.1 meters in SUM20-06.
Summa successfully intersected down-dip extensions of the Belmont Vein, Rescue Vein #2 delivered the high-grade headline interval at 347 meters down hole. Last week's results help to confirm Summa's theory that the old times left a lot of silver/gold that modern exploration techniques can uncover –  investors can expect steady news flow from Summa for the rest of 2020, including results from the Murray, Belmont, and Ruby Targets (multi-kilometer step-out into the valley east of the Halifax Fault).
Summa has C$9 million in its treasury, more than a dozen drill holes pending assays, including a couple of which were sent off for rush assays, and perhaps the best part is that Summa also recently acquired a very attractive option to control 100% of the Mogollon Project in New Mexico (a large project that hosts a number of undrilled veins with documented small-scale underground exploration workings that were driven above the main mineralized target elevation window).
Sector sentiment was largely responsible for Summa's surge from the $1.20 area in July to $3.50 a month later, and so it is fitting that the unwind of bullish sentiment in the precious metals sector has brought Summa shares right back to early July levels. However, Summa has more cash in its treasury than it did in early July, the company is well into its maiden drill program with steady news flow coming for the rest of the year, and Summa has new highly prospective property in New Mexico which makes it a more dynamic multi-project explorer.
I used the recent share price decline to significantly increase my Summa position and I believe the risk/reward proposition is highly attractive below $1.50 per share.
Disclosure: Author owns SSVR.CA shares at the time of publishing and may choose to buy or sell at any time without notice. 
Disclaimer:
The article is for informational purposes only and is neither a solicitation for the purchase of securities nor an offer of securities. Readers of the article are expressly cautioned to seek the advice of a registered investment advisor and other professional advisors, as applicable, regarding the appropriateness of investing in any securities or any investment strategies, including those discussed above. Summa Silver Corp. is a high-risk venture stock and not suitable for most investors. Consult Summa SIlver Corp's SEDAR profiles for important risk disclosures. EnergyandGold has been compensated for marketing & promotional services by Summa Silver Corp. so some of EnergyandGold.com's coverage could be biased. EnergyandGold.com, EnergyandGold Publishing LTD, its writers and principals are not registered investment advisors and advice you to do your own due diligence with a licensed investment advisor prior to making any investment decisions.
This article contains certain forward-looking information and forward-looking statements within the meaning of applicable securities legislation (collectively "forward-looking statements"). Certain information contained herein constitutes "forward-looking information" under Canadian securities legislation. Generally, forward-looking information can be identified by the use of forward-looking terminology such as "expects", "believes", "aims to", "plans to" or "intends to" or variations of such words and phrases or statements that certain actions, events or results "will" occur. Forward-looking statements are based on the opinions and estimates of management as of the date such statements are made and they are subject to known and unknown risks, uncertainties and other factors that may cause the actual results, level of activity, performance or achievements of the Company to be materially different from those expressed by such forward-looking statements or forward-looking information, standard transaction risks; impact of the transaction on the parties; and risks relating to financings; regulatory approvals; foreign country operations and volatile share prices. Although management of the Company has attempted to identify important factors that could cause actual results to differ materially from those contained in forward-looking statements or forward-looking information, there may be other factors that cause results not to be as anticipated, estimated or intended. There can be no assurance that such statements will prove to be accurate, as actual results and future events could differ materially from those anticipated in such statements. Actual results may differ materially from those currently anticipated in such statements. The views expressed in this publication and on the EnergyandGold website do not necessarily reflect the views of Energy and Gold Publishing LTD, publisher of EnergyandGold.com. Accordingly, readers should not place undue reliance on forward-looking statements and forward looking information. The Company does not undertake to update any forward-looking statements or forward-looking information that are incorporated by reference herein, except as required by applicable securities laws. Always thoroughly do your own due diligence and talk to a licensed investment adviser prior to making any investment decisions. Junior resource companies can easily lose 100% of their value so read company profiles on www.SEDAR.com for important risk disclosures. It's your money and your responsibility.