The Yukon Mining Renaissance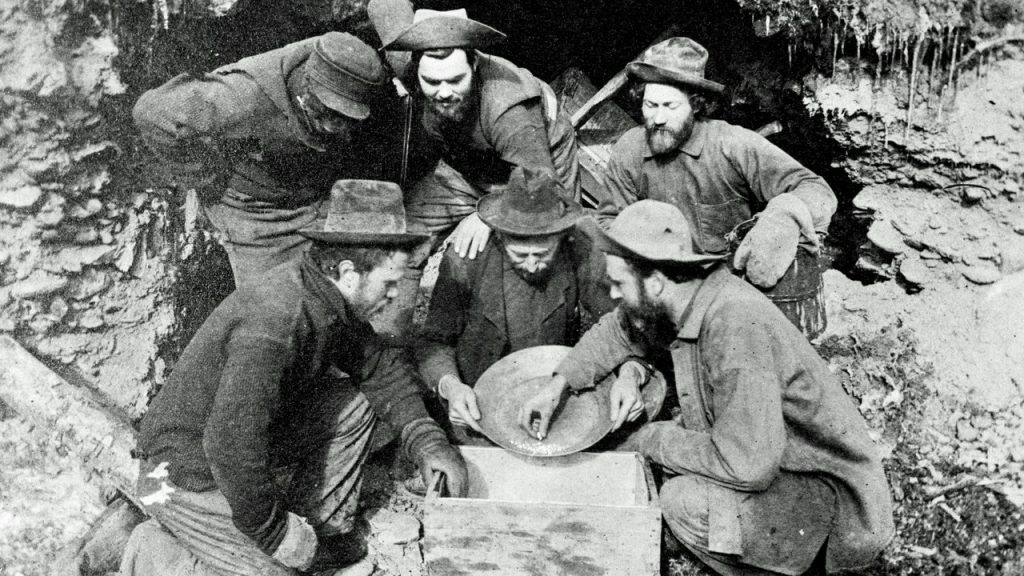 Early prospectors examine a pan for gold nuggets during the Klondike Gold Rush circa 1897
It's been more than 120 years since George Carmack, Skookum Jim, Kate Carmack, and Dawson Charlie found gold along Bonanza Creek (one of the Klondike River's tributaries), but the Klondike Gold Rush is still alive and well in Canada's Yukon Territory. During my visit to the Yukon last summer, as part of the Yukon Mining Tour, I felt the mining history everywhere we went. The sheer size of the Yukon is impressive (nearly 500,000 square kilometers) and it's hard to believe that there aren't more world-class mineral discoveries just waiting to be uncovered in this Canadian territory.
In the past decade, there has been a tremendous drive from both the federal and territorial governments to stimulate mining investment and exploration in the Yukon. In September 2017, the Canadian Prime Minister Justin Trudeau announced a C$360 million "Roads to Resources" program, which will upgrade more than 650 kilometers of roads in the territory, and build or replace numerous bridges, culverts, and stream crossings in two minerals-rich regions of the Yukon.
The Roads to Resources program is critical for the mining industry in the Yukon because the relative scarcity of infrastructure is one of the main obstacles in the way of having more economic mining projects in the Territory. Since the Roads to Resources program was announced in September 2017, we have seen a bit of a renaissance in Yukon mineral exploration; there are more than a dozen high-quality gold explorers and developers (Alexco Resources and White Gold Corp, to name a couple) that are advancing highly prospective precious metals projects in the Yukon. In addition, Victoria Gold (TSX-V:VIT) is about to become Canada's next gold producer, with first gold pour expected in Q3 of this year.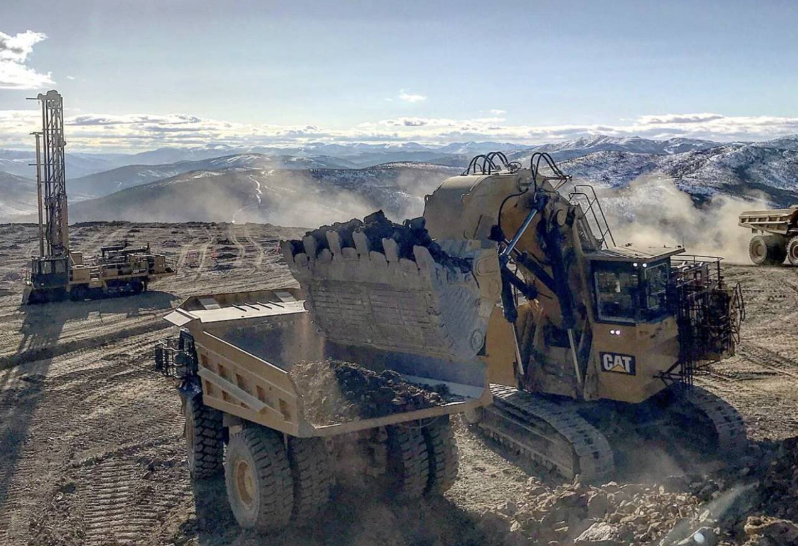 Pre-Production Mining at Victoria Gold's Eagle Gold Project in the Yukon
Victoria Gold's Eagle Gold Project is impressive and can boast the following attributes:
Eagle Gold will be the largest gold mine in the history of the Yukon.
Eagle Gold will be Canada's next producing gold mine.
Eagle Gold boasts 2.5 million proven and probable ounces of gold, with an additional 1+ million ounces measured & indicated.
Industry low waste-to-ore ratio of less than 1:1.
While the last couple of years haven't been too kind to Victoria Gold shareholders, there is a good case for getting into VIT shares now as the company moves into production: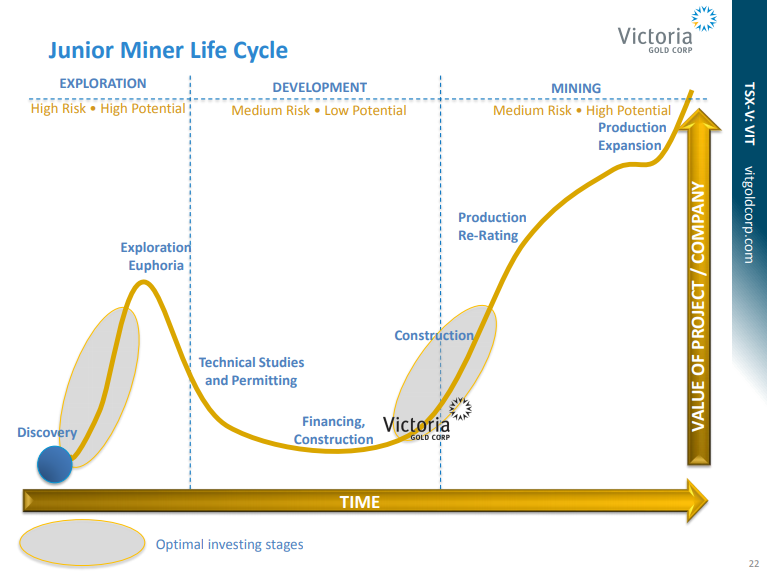 The "producer rerate" is one of the classic investment cases in the mining sector, as there's nothing like metals production generating cash flow to gain the attention of a larger audience of investors. Some large investors are only permitted to own producers (by investment mandate), and the transition from developer to producer opens up a whole new set of investors and capital who can buy a company's stock.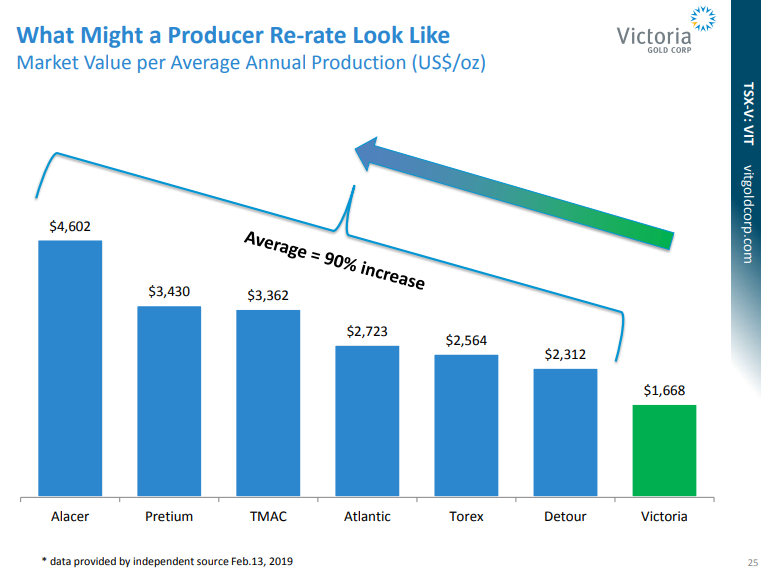 A similar bullish case can be made for Canada's next, and only, primary silver producer, Alexco Resources (TSX:AXR). Victoria Gold's neighbor Alexco Resources is also on the verge of transitioning from developer to producer, with production set to commence in the fourth quarter of this year. In a recent phone conversation, Alexco CEO Clynton Nauman pointed out just how rich in silver Alexco's Keno Hill projects are when he stated "there's an ocean of 600 gram [600 gram/tonne silver equates to about 7.5 grams/tonne gold] material here (at Keno Hill)…."
With two new precious metals producers set to be in full production by year end, the Yukon is experiencing a mining renaissance. Not only are there new Yukon producers, but the Yukon is also experiencing an increase in the number of high-quality exploration companies that have highly prospective projects.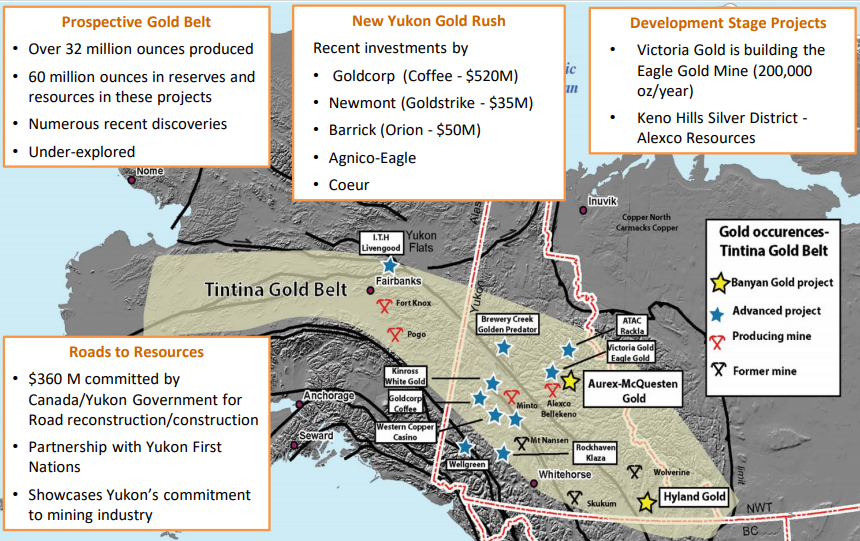 Most of the biggest and most profitable mineral deposits in the Yukon are located along what is known as the Tintina Gold Belt, which is home to the Fort Knox (nearly 10 million ounces of gold produced to date) and Pogo (nearly 5 million ounces of gold resources & reserves) mines on the US side of the border. Since the Klondike Gold Rush began in 1896, it's believed that nearly 20 million ounces of gold have been extracted from the earth in the Yukon Territory of Canada (not including the nearly 50 million ounces that have been mined in neighboring Alaska). More importantly, there is evidence that there is substantially more than 50 million ounces of gold still left in the ground in the Yukon.
A handful of the Yukon's best gold explorers include:
ATAC Resources (TSX-V:ATC)
Banyan Gold (TSX-V:BYN)
Triumph Gold (TSX-V:TIG)
Western Copper & Gold (TSX:WRN)
White Gold (TSX-V:WGO)
Of this list, there is only one company with a market cap below C$20 million and it happens to be the company with projects next door to the two fledgling Yukon precious metals producers, Alexco and Victoria: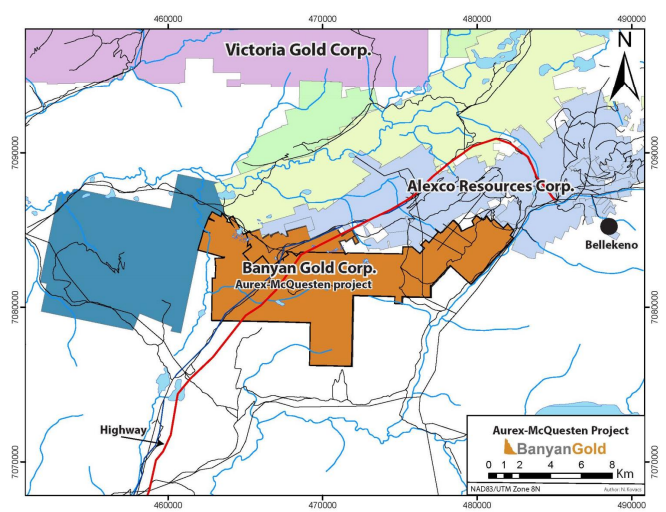 Banyan Gold (TSX-V:BYN, OTC: BYAGF) has a C$4.8 million market cap (fully diluted at a C$.04 share price) and its Aurex McQuesten Project (AurMac) in the Keno Hill Silver District of the Yukon is in the middle of the Yukon's hottest new mining district, with much larger market cap companies surrounding it on all sides. Aurex McQuesten also has a significant infrastructure advantage, with highway and power lines that run right through the property. Banyan is planning to drill a higher grade gold target at its McQuesten target and also drill its Aurex Hill target, as part of its phase 2 drill program at AurMac in June (8-10 holes, 1,200 meters), with the aim of getting closer to being able to put together a maiden resource estimate there.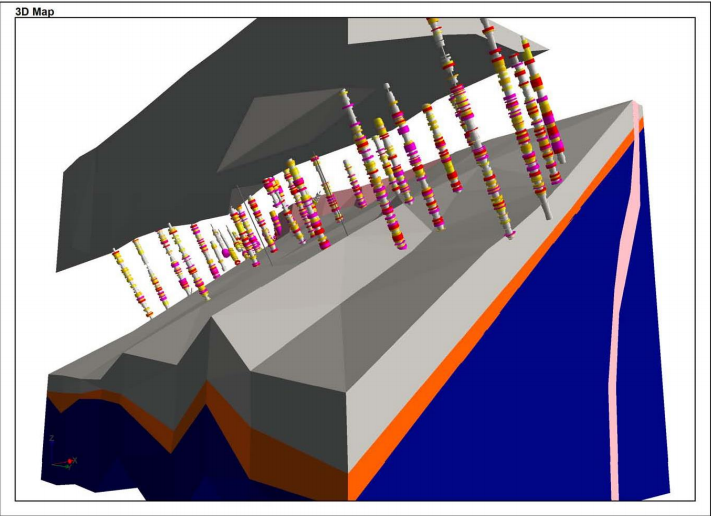 3D map of drilling at AurMac
The amazing thing about Banyan is that, while AurMac is a highly prospective project in a great location, it is not Banyan's flagship project. That title belongs to the Hyland Project in the southern portion of the Yukon, closer to the territorial capital Whitehorse: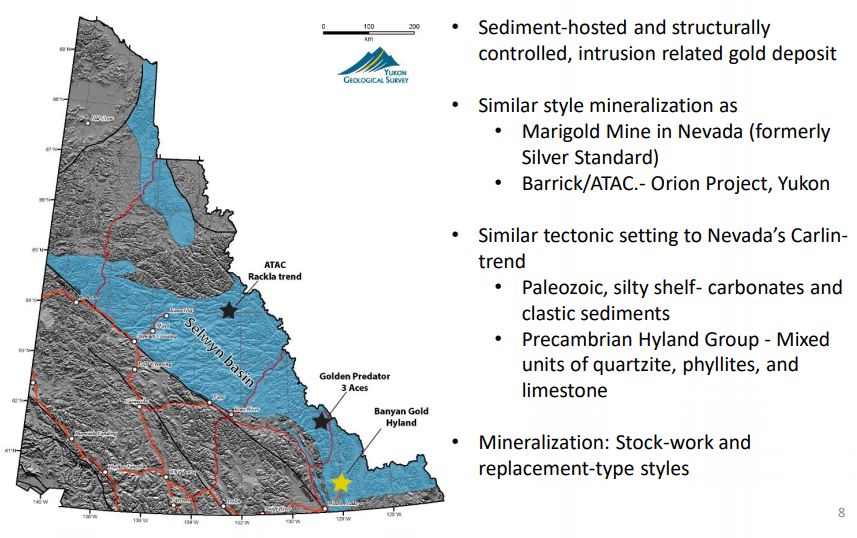 Hyland has an established 524,000 ounce 43-101 compliant gold resource with significant exploration upside potential. Banyan has a 186 square-kilometer land package at Hyland and it is open in all directions. Hyland is a sediment hosted and structurally controlled, intrusion related gold deposit in a similar tectonic setting as the Carlin Trend in Nevada. In many ways Hyland is similar to a classic Nevada gold project with broad intercepts (50+ meters) grading between .7 and 1.3 grams/tonne gold – some highlights from Banyan's drilling at Hyland:
HY17-054: 36.24m of 1.3g/t Au and 2.54g/t Ag
HY17-055: 57.4m of 0.9g/t Au and 3.3g/t Ag
HY17-056: 94.6m of 0.7g/t Au and 7.0g/t Ag
HY17-057: 46.0m of 1.6g/t Au and 6.5g/t Ag
Trenching has also delivered some excellent results including:
TR17-04: 116m of 1.19g/t Au and 13.16g/t Ag
TR17-02: 56m of 1.42g/t Au and 3.94g/t Ag
Metallurgical work has also shown average oxide gold recoveries of 86% which means that Hyland can be exploited as an open pit, heap leach mining operation. There are numerous open pit heap leach mines in Nevada operating with gold grades below .5 grams/tonne, and 1 gram/tonne gold is considered to be an excellent grade for an open pit heap leachable deposit – Hyland's average gold-equivalent grade of .85 grams/tonne is a good grade for an open pit heap leach mining scenario.
Both Alexco and Victoria Gold are Banyan shareholders with Alexco holding nearly 10% of BYN shares and Victoria holding 5.6%. Banyan CEO Tara Christie also owns nearly 5% of Banyan shares on a fully diluted basis. Add in other insiders and nearly 30% of Banyan shares are in extremely strong hands.
Banyan Gold is led by CEO Tara Christie,  M.A.Sc., P.Eng. – Mrs. Christie has more than twenty years of experience in the mining and exploration industries including having personally placer mined more than 20,000 ounces of gold in the Yukon. Mrs. Christie comes from a family with a long history of placer mining in Canada's Yukon Territory – in fact, her brother Sheamus has even been one of the main characters on the Discovery Channel's hit series "Gold Rush".
At its recent share price of C$.04 Banyan Gold's market cap is less than C$5 million (~121 million shares fully diluted). This means that the market is valuing Banyan's 43-101 compliant gold ounces at Hyland at less than C$10 per ounce while giving Banyan zero value for its AurMac Project. Given its prime location (in the middle of an emerging mining district) and the fact that C$7 million has been spent on exploring the property package by previous owners, from my vantage point AurMac is worth at least as much as Banyan's total market cap right now (C$4.7 million). Especially considering that there will be two operating mills within trucking distance by the end of 2019, another source of ore could be quite valuable to either Alexco or Victoria in the future.
Banyan has about C$600,000 in the treasury which will be sufficient to carry out drilling and field work at AurMac in May/June (Banyan has low drilling costs at AurMac due to its partnerships with Alexco & Victoria and its excellent location near major roads and infrastructure), at which point the company will reassess market conditions and other opportunities (including potential JV opportunities).
Investing is all about risk vs. reward and in my estimation the downside risk in Banyan shares at C$.04 per share is about as low as it gets in the junior mining sector, whereas the upside potential is significant. While some may laugh at the possibility of BYN being a 10-bagger (900%+ increase from its current share price) there are several scenarios which could lead to Banyan reaching a C$.40 share price, including substantial exploration success at AurMac and/or further expansion at Hyland which enables Banyan to reach the 'critical mass' (one million ounces) required to garner more attention from producers and achieve a rerating to the average per ounce valuation for its peer group (C$40 per ounce for measured & indicated gold ounces).
Both of Banyan's projects have road access with camps & equipment on site. Hyland has a similar tectonic setting to Nevada's prolific Carlin Trend and what's even better is that the vast majority of gold mineralization at Hyland is near surface (75 meters depth or less) and the bulk of the resource is oxide which means that it is amenable to heap leaching (metallurgical testing has yielded gold recoveries of 86%). Meanwhile, AurMac is in the Mayo Mining District (home to Alexco Resources and Victoria Gold) and the property has undergone at least three stages of mineralization which host gold, silver, and zinc/lead veins (Keno Hill style siderite).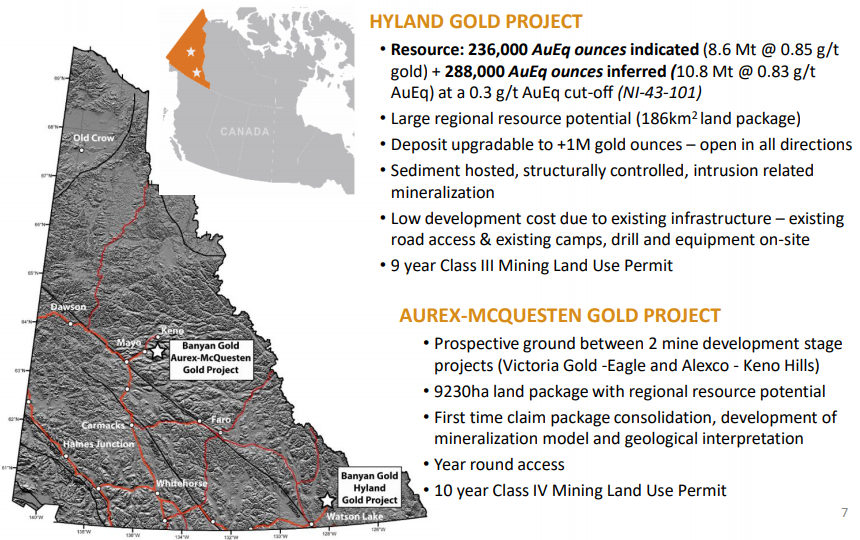 Hyland is open in all directions which makes the 1,000,000 ounce total resource number quite attainable, particularly considering Hyland's 186 square kilometer land package. At AurMac Banyan has a straightforward path to a maiden resource estimate, through consolidating the more than C$7 million of historical exploration work that has been carried out on the property package, in addition to the work that Banyan has carried out.
There simply aren't many safe mineral rich jurisdictions left in the world that haven't been largely exploited. The Yukon is one of them and the Fraser Institute recently ranked the Yukon 9th (up from 13th in 2017) in its investment attractiveness survey of mining regions: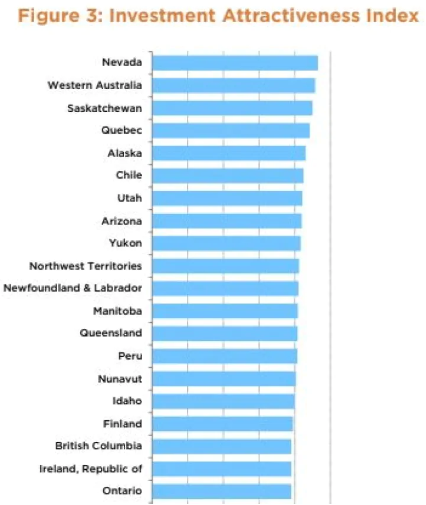 As the Yukon mining renaissance evolves over the coming months and investors begin to pay more attention to the success of Alexco and Victoria Gold, I anticipate money flowing into this emerging mining jurisdiction. I own shares in both Alexco and Banyan, and Victoria Gold shares are on my radar as well.
Disclaimer
The article is for informational purposes only and is neither a solicitation for the purchase of securities nor an offer of securities. Readers of the article are expressly cautioned to seek the advice of a registered investment advisor and other professional advisors, as applicable, regarding the appropriateness of investing in any securities or any investment strategies, including those discussed above. Banyan Gold Corp. is a high-risk venture stock and not suitable for most investors. Consult Banyan Gold Corp's SEDAR profile for important risk disclosures.
EnergyandGold has been compensated to cover Banyan Gold Corp. and so some information may be biased. EnergyandGold.com, EnergyandGold Publishing LTD, its writers and principals are not registered investment advisors and advice you to do your own due diligence with a licensed investment advisor prior to making any investment decisions.
This article contains certain forward-looking information and forward-looking statements within the meaning of applicable securities legislation (collectively "forward-looking statements"). Certain information contained herein constitutes "forward-looking information" under Canadian securities legislation. Generally, forward-looking information can be identified by the use of forward-looking terminology such as "expects", "believes", "aims to", "plans to" or "intends to" or variations of such words and phrases or statements that certain actions, events or results "will" occur. Forward-looking statements are based on the opinions and estimates of management as of the date such statements are made and they are subject to known and unknown risks, uncertainties and other factors that may cause the actual results, level of activity, performance or achievements of the Company to be materially different from those expressed by such forward-looking statements or forward-looking information, standard transaction risks; impact of the transaction on the parties; and risks relating to financings; regulatory approvals; foreign country operations and volatile share prices. Although management of the Company has attempted to identify important factors that could cause actual results to differ materially from those contained in forward-looking statements or forward-looking information, there may be other factors that cause results not to be as anticipated, estimated or intended. There can be no assurance that such statements will prove to be accurate, as actual results and future events could differ materially from those anticipated in such statements. Actual results may differ materially from those currently anticipated in such statements. The views expressed in this publication and on the EnergyandGold website do not necessarily reflect the views of Energy and Gold Publishing LTD, publisher of EnergyandGold.com. Accordingly, readers should not place undue reliance on forward-looking statements and forward looking information. The Company does not undertake to update any forward-looking statements or forward-looking information that are incorporated by reference herein, except as required by applicable securities laws. Always thoroughly do your own due diligence and talk to a licensed investment adviser prior to making any investment decisions. Junior resource companies can easily lose 100% of their value so read company profiles on www.SEDAR.com for important risk disclosures. It's your money and your responsibility.