Stock Snapshot: Banyan Gold
I first met Banyan Gold CEO Tara Christie at the New Orleans Investment Conference last October. She immediately struck me as extremely knowledgeable and quite serious about turning Banyan into a winning company. Ms. Christie has over 20 years of experience in the exploration and mining business including a substantial amount of expertise in placer gold mining in the Yukon. After speaking with Ms. Christie for five minutes one quickly realizes that she has a deep understanding of the geology of Banyan's flagship Hyland Gold Project.
When I first looked at it, Banyan immediately struck me as an attractively priced stock (C$.08 at the time), considering that an upgrading of the resource to the 750,000-1,000,000 ounce area while maintaining the current grade of ~1 gram/tonne Au-equivalent could easily warrant a market cap near C$25 million (roughly C$.32 per BYN share using ~77 million shares outstanding).
After speaking with Ms. Christie again yesterday I have compiled a brief snapshot of the positives and negatives I see right now for Banyan shareholders:
Positives
Updated resource estimate out within next 1-2 months, should increase resource by more than 200,000 ounces Au from BYN's current 400,000 ounces.
Company is very frugal with finances, currently C$1 million in the bank and first phase of 2018 exploration program will cost about C$600,000.
Hyland Main Zone is still open to the north, south and east.
Open pit, heap leach mine envisioned for Hyland Main Zone. Company confident that the resource can be upgraded to at least 1 million ounces at ~1 gram/tonne Au.
Low development cost due to existing infrastructure including existing camp and equipment on-site.
Aurex-McQuesten Gold Project (Banyan's #2) gives the company blue sky potential in a highly prospective gold/silver district in which Alexco is advancing a project into production right next door.
 Still small enough that not many people care.
 Can Banyan reach sufficient scale to justify the capex outlay to build a mine?
 Will need to raise capital around mid-year.
 Company is not promotional, which can be good (save money and lower expectations) but can also be a negative (story doesn't  get out to a larger audience).
Banyan Gold (BYN.V – 1 Year)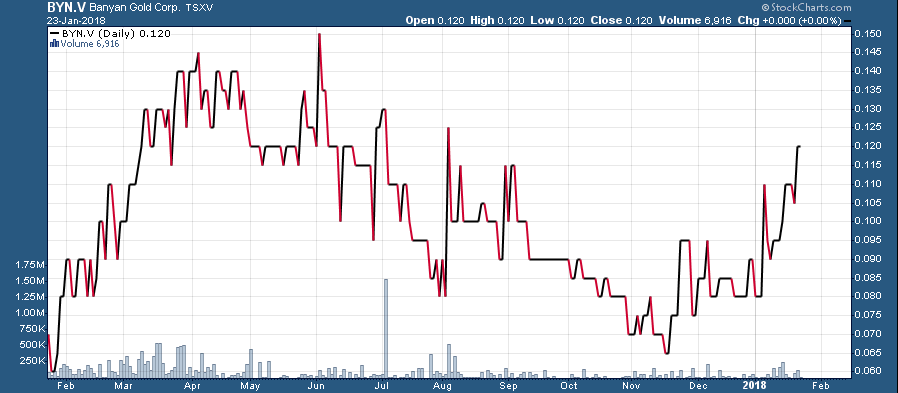 Key upside levels for BYN are C$.12 and C$.15 – above C$.15 there isn't much price memory until the all-time high at C$.245. Support below at C$.08 and C$.05. A breakout above C$.15 could result in a much larger move up towards my price target of C$.30.
Disclosure: Author is long BYN shares at time of publishing and may buy or sell shares at any time without notice.


DISCLAIMER: The work included in this article is based on current events, technical charts, and the author's opinions. It may contain errors, and you shouldn't make any investment decision based solely on what you read here. This publication contains forward-looking statements, including but not limited to comments regarding predictions and projections. Forward-looking statements address future events and conditions and therefore involve inherent risks and uncertainties. Actual results may differ materially from those currently anticipated in such statements. The views expressed in this publication and on the EnergyandGold website do not necessarily reflect the views of Energy and Gold Publishing LTD, publisher of EnergyandGold.com. This publication is provided for informational and entertainment purposes only and is not a recommendation to buy or sell any security. Always thoroughly do your own due diligence and talk to a licensed investment adviser prior to making any investment decisions. Junior resource companies can easily lose 100% of their value so read company profiles on www.SEDAR.com for important risk disclosures. It's your money and your responsibility.