Osprey Gold Development (TSX-V:OS) has been one of the best performing stocks on the TSX-Venture in 2017 with a year-to-date gain of ~300% despite a challenging year for the gold exploration sector. Energy & Gold caught up with Osprey President Cooper Quinn to get an update on OS's plans and what investors can expect throughout the summer.
Scott Armstrong: It's good to speak with you Cooper, I know you've been busy in Nova Scotia during the last couple of weeks. When can investors expect the lab results from the 2014 core which OS acquired?
Cooper Quinn: Those have taken a bit longer than we would have liked for a number of external reasons. However, investors should see the first batch of results from that 2014 core samples very soon.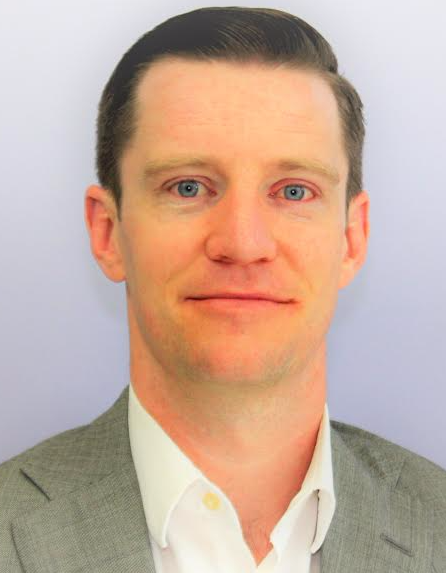 Cooper Quinn, CEO, Osprey Gold Development
Scott Armstrong: What are you looking at with Goldenville? What is your optimistic estimate for how large of a resource this could be? What is the pessimistic view?
Cooper Quinn: Well the pessimistic view would be that we don't make it any bigger than it is now. As far as the optimistic view goes the nice thing about Nova Scotia is that we don't need to have a 2,000,000 ounce singular deposit to be successful. With multiple deposits, because of the infrastructure that is in place, we can be successful – this is part of the two paradigm shifts that Atlantic Gold has shown (disseminated mineralization and multiple deposits). For example if we had 500,000 ounces Au at Goldenville, 400,000 ounces at Mitchell Lake, and 600,000 ounces at Lower Seal Harbor we are suddenly a 1.5 million ounce company because of how connected the road systems are. An analogy to this is the Haile Deposit down in North Carolina.
Essentially the optimistic view is that Goldenville is 600,000-800,000 ounces, to get above 800,000 ounces we will likely need to get down to much deeper depths (1,200 meters+). However, like I said if we can prove up 500,000-600,000 ounces at Goldenville and develop these other projects we can become a multi-million ounce company without having a singular million ounce project.
Scott Armstrong: How would you rank your projects? Which one is your #2 project after Goldenville?
Cooper Quinn: Certainly Lower Seal Harbour is our #2 project right now; it is a known host to that disseminated mineralization that we are targeting. Lower Seal is also the closest project we have to Goldenville. We have some geologists doing some work at Lower Seal Harbour trying to identify some drill targets for us there. The historic drill packages we acquired have turned out to be excellent guides for some other drill targets and if we can I would like to expand the drill program this year. I would like to drill some holes at Lower Seal Harbour, Mitchell Lake, and maybe some of the other projects that we have as well.
CEO Technician: Is Osprey learning from Atlantic Gold and how does it affect your strategy as you put together your projects?
Cooper Quinn: I liken Atlantic Gold to an icebreaker. Nova Scotia was this part of the world that was known for smaller deposits, none of which were really booming successes. However, Atlantic Gold has shown with a rethink of the area, along with discovering some different styles of mineralization that you can make these deposits work in a modern mining environment with production numbers that are significant.
In addition, from a permitting aspect as well, Atlantic Gold has revealed a definite path to success; it is possible to build a new open pit mine and get it permitted. In some provinces this would be challenging right now, yet in Nova Scotia this is exactly what is happening.
CEO Technician: How does Osprey prove there is disseminated gold mineralization at Goldenville? Will it take multiple drill programs or could you have a fairly strong indication this summer if you target the right spots?
Cooper Quinn: So this summer we'll be focused on two things, we'll be expanding our high grade resources at Goldenville and as we do that we'll be trying to focus in on these areas of the deposit where the argillites are thicker and have the potential to be mineralized. So if we are able to identify that the argillites are thicker either at Goldenville or Lower Seal Harbour then it will be a relatively easy story to tell.
One of the advantages we have at Goldenville is that we have this existing high grade resource to start with which gives us a pretty good leg to stand on no matter what. We can continue to drill the high grade area as we test for disseminated gold mineralization both at Goldenville and our other projects.
CEO Technician: I'm sure you read Eric Coffin's excellent piece on Osprey a few weeks ago. He used an interesting metaphor of a magazine being open upside down to describe the mineralization that Atlantic Gold discovered in Nova Scotia. Is this a fair assessment of what you believe exists at Goldenville?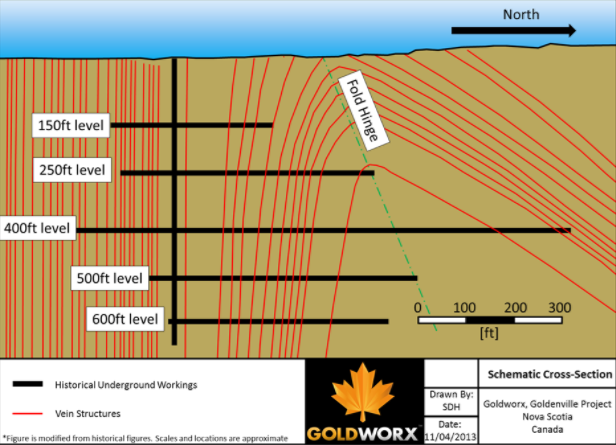 Cooper Quinn: Yes, that's the cartoonish image of a cross section of Goldenville and it's a fair representation.
CEO Technician: Do you have plans for an updated resource estimate this year?
Cooper Quinn: It depends upon our drilling success this summer, if we have good success with drilling we will likely continue to explore. It's challenging to do a resource estimate when you're doing a lot of exploration work on a project at the same time. We will find the logical point in time to update the resource, which could either be in Q4 of this year or during the 1st half of 2018.
CEO Technician: The first program focused on Goldenville will require just one rig?
Cooper Quinn: Yes, during the first phase of our exploration program at Goldenville we will just need one rig until we're doing a lot more drilling.
CEO Technician: How long will it take to complete the first phase of the summer exploration program at Goldenville?
Cooper Quinn: Probably 4-6 weeks.
CEO Technician: When can investors expect to begin receiving assays back?
Cooper Quinn: Investors can probably expect assays to start coming back in August.
CEO Technician: What would be the plan under best case scenario if all goes well and you begin to get assays back from the lab in August?
Cooper Quinn: After a brief pause to make sure we've got our heads wrapped around everything we will likely start another phase of drilling and continue to move full steam ahead. If results are good we will keep going with the drills for a while.
CEO Technician: One final question which you might not want to answer but i'll give it a shot anyway. What is the endgame for Osprey? It would seem to be a no brainer that Atlantic would acquire OS if Goldenville, Lower Seal, etc. are shaping up to be a more than 1,000,000 ounce project in total as it would provide cost synergies and greater production longevity.
Cooper Quinn: A possible exit strategy for Osprey as a company is to develop significant resources over the next couple of years and once Atlantic has completed its Cochrane Hill expansion AGB might be looking to extend its mine life; both Lower Seal Harbour and Goldenville are in close enough proximity to Cochrane Hill that it would make sense that Atlantic might look to acquire those projects.
With a rig mobilized at Goldenville and Osprey's 2017 exploration kicking into full swing the next few months look to be an exciting time to be an Osprey shareholder. After a nice jump at the beginning of June OS shares have settled down near C$.40:
 OS.V (Daily)
With Atlantic Gold's first gold pour expected in the next 2-3 months in addition to a steady dose of news flow from Osprey it's an exciting time to be an investor in Nova Scotia gold exploration. We will keep Energy & Gold readers closely apprised of updates from Osprey which could include the initial batch of assays from the 2014 core as early as this week.

Disclaimer
The article is for informational purposes only and is neither a solicitation for the purchase of securities nor an offer of securities. Readers of the article are expressly cautioned to seek the advice of a registered investment advisor and other professional advisors, as applicable, regarding the appropriateness of investing in any securities or any investment strategies, including those discussed above. Osprey Gold Development is a high-risk venture stock and not suitable for most investors. Consult Osprey Gold Development's SEDAR profile for important risk disclosures.
EnergyandGold has been compensated to cover Osprey Gold Development and so some information may be biased. EnergyandGold.com, EnergyandGold Publishing LTD, its writers and principals are not registered investment advisors and advice you to do your own due diligence with a licensed investment advisor prior to making any investment decisions.
This article contains certain forward-looking information and forward-looking statements within the meaning of applicable securities legislation (collectively "forward-looking statements"). Certain information contained herein constitutes "forward-looking information" under Canadian securities legislation. Generally, forward-looking information can be identified by the use of forward-looking terminology such as "expects", "believes", "aims to", "plans to" or "intends to" or variations of such words and phrases or statements that certain actions, events or results "will" occur. Forward-looking statements are based on the opinions and estimates of management as of the date such statements are made and they are subject to known and unknown risks, uncertainties and other factors that may cause the actual results, level of activity, performance or achievements of the Company to be materially different from those expressed by such forward-looking statements or forward-looking information, standard transaction risks; impact of the transaction on the parties; and risks relating to financings; regulatory approvals; foreign country operations and volatile share prices. Although management of the Company has attempted to identify important factors that could cause actual results to differ materially from those contained in forward-looking statements or forward-looking information, there may be other factors that cause results not to be as anticipated, estimated or intended. There can be no assurance that such statements will prove to be accurate, as actual results and future events could differ materially from those anticipated in such statements. Actual results may differ materially from those currently anticipated in such statements. The views expressed in this publication and on the EnergyandGold website do not necessarily reflect the views of Energy and Gold Publishing LTD, publisher of EnergyandGold.com. Accordingly, readers should not place undue reliance on forward-looking statements and forward looking information. The Company does not undertake to update any forward-looking statements or forward-looking information that are incorporated by reference herein, except as required by applicable securities laws. Always thoroughly do your own due diligence and talk to a licensed investment adviser prior to making any investment decisions. Junior resource companies can easily lose 100% of their value so read company profiles on www.SEDAR.com for important risk disclosures. It's your money and your responsibility.