Miners Take A Beating But It's Not All Bad News
The gold miners are back to where they were a month ago, but the way they got there today leaves ample cause for concern and has precious metals mining investors scratching their heads. With gold still holding above $1,250/oz and silver above $18.30/oz mining shares suffered a nearly 8% reversal from the intraday high to low in the GDX and an 11.5% intraday reversal in the GDXJ.
While there is a lot to say about today's market action in the precious metals miners (check out my stream on CEO.CA for additional commentary) I want to point out the importance of today's lows in the GDX/GDXJ and the potential inverse head & shoulders pattern which could be forming:
GDX (Daily)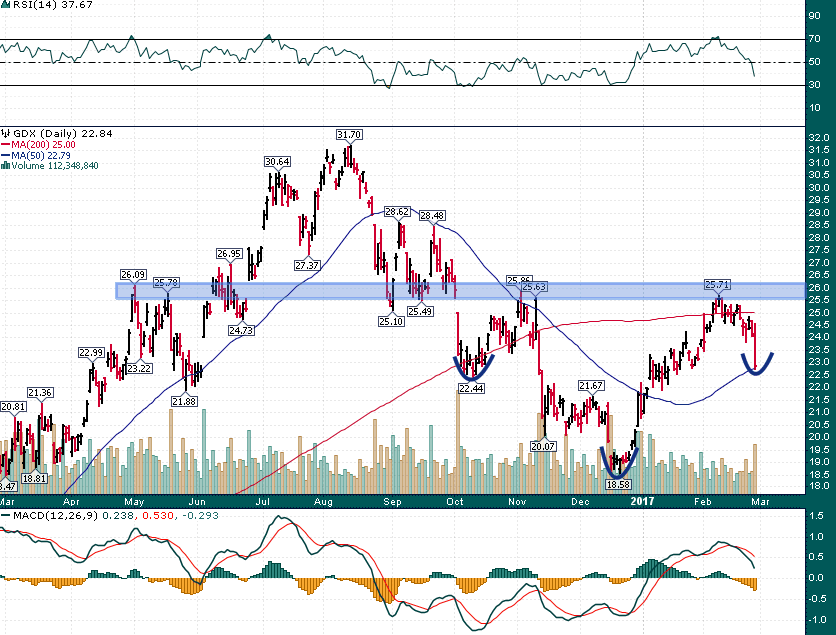 The $22.50-$23.00 area is important support/resistance; both in October and January price consolidated in this area before proceeding to rally up to bigger resistance ($25.50-$26.00). Today's decline has the early makings of the 'right shoulder' of a potential head & shoulders pattern – the best case scenario for bulls would likely be a 2-3 day bounce, followed by a further consolidation, before the next leg higher begins. A breakout above the 'neckline' (~$26) would target ~$33 (~45% above today's closing level).
It is not too unusual for GDX to drop more than 5% on a single day while still closing above its 50-day moving average, such as it did today. In fact it's happened 18 times in the last 10 years and the results are interesting: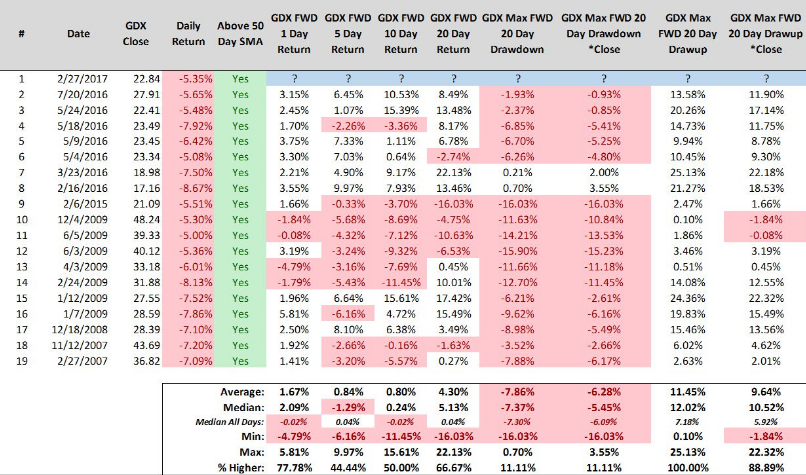 A bullish bias short term including up 14 out of 18 times the day after for a median return of 2.09%, however, looking out longer term to 20 days we can see that there can be some fairly large drawdowns even though the bias remains bullish.
Today's market action in precious metals and miners was unique; in more than a decade of trading this sector day in and day out I can't recall such devastation among mining shares while gold and silver were largely untouched, and in fact still holding firm above key technical levels.
Some casual market observers will be quick to state that the large drop in the gold/silver miners means that the metals will be quick to follow. While this could certainly happen, I doubt it will be that straightforward. Mining shares have been correcting for a couple of weeks and the kind of selling we saw today is likely to be closer to the end of the correction than the beginning.
Read also: Why Are The Gold Miners Stuck In Neutral?
DISCLAIMER: The work included in this article is based on current events, technical charts, and the author's opinions. It may contain errors, and you shouldn't make any investment decision based solely on what you read here. This publication contains forward-looking statements, including but not limited to comments regarding predictions and projections. Forward-looking statements address future events and conditions and therefore involve inherent risks and uncertainties. Actual results may differ materially from those currently anticipated in such statements. The views expressed in this publication and on the EnergyandGold website do not necessarily reflect the views of Energy and Gold Publishing LTD, publisher of EnergyandGold.com. This publication is provided for informational and entertainment purposes only and is not a recommendation to buy or sell any security. Always thoroughly do your own due diligence and talk to a licensed investment adviser prior to making any investment decisions. Junior resource companies can easily lose 100% of their value so read company profiles on www.SEDAR.com for important risk disclosures. It's your money and your responsibility.