Sandspring Resources (TSX-V:SSP) released assay results from its 2016 exploration program with results from Sona Hill and Wynamu Hill. The results are highly encouraging with SSP drilling 7.51 g/t Au over 21.5m in WYD013 at Wynamu Hill, a very nice near surface exploratory hole. At Sona Hill SSP released results from over 5,000 meters of drilling including infill intersects of 7.89 g/t Au over 13.5m in Sona Hill Drill Hole ("SOD")081 (infill) and 39.56 g/t Au over 10.5m in SOD090 (infill).
Sandspring CEO Rich Munson offered the following statement on today's assay results:
"We are very pleased to have completed the 2016 Program on schedule and within budget and to be able to report both continuing positive results at Sona Hill and the presence of an additional potential satellite deposit at Wynamu Hill. We are further encouraged that these near-surface systems contain areas of higher grade mineralization and remain open at depth and on strike, providing the potential for gold-only satellite deposits in proximity to existing reserves that could have a meaningful impact on the development of Toroparu. Exploration success to the southeast of Toroparu at Sona Hill, to the northwest at Wynamu Hill, and encouraging results from geochemical surveys at Otomung further supports our geologic model for the area, and we expect the detailed evaluation of the results will support further exploration efforts in these areas as well as the other high priority gold features within the 20 km by 7 km regional hydrothermal alteration halo surrounding Toroparu."
SSP shares are surging ~17% following the news: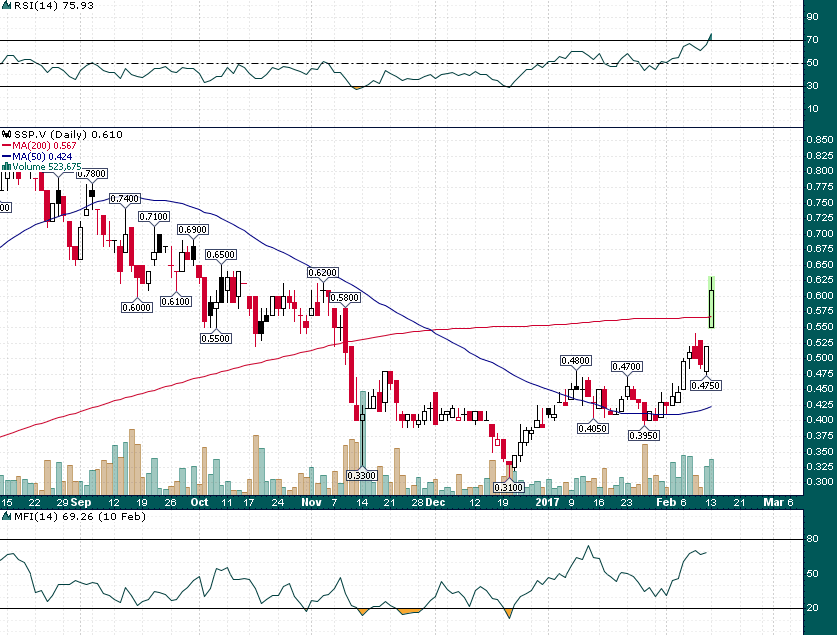 The Sona Hill results are undoubtedly a positive with an increasing probability that Sandspring can begin production with a smaller, high grade starter pit at Sona Hill. The high-grade mineralization discovered at Wynamu is a bonus that Sandspring can continue to explore during 2017 (Wynamu Hill mineralized system remains open at depth and along strike).
If you think gold can retake the US$1300 level I think we can easily see SSP shares at C$1.00 during the first half of 2017.
Read Also: Sandspring Resources – Pivotal Year Ahead in 2017
Disclosure: The author of this post has a long position in SSP.V at the time of writing. 
DISCLAIMER: The work included in this article is based on current events, technical charts, and the author's opinions. It may contain errors, and you shouldn't make any investment decision based solely on what you read here. This publication contains forward-looking statements, including but not limited to comments regarding predictions and projections. Forward-looking statements address future events and conditions and therefore involve inherent risks and uncertainties. Actual results may differ materially from those currently anticipated in such statements. The views expressed in this publication and on the EnergyandGold website do not necessarily reflect the views of Energy and Gold Publishing LTD, publisher of EnergyandGold.com. This publication is provided for informational and entertainment purposes only and is not a recommendation to buy or sell any security. Always thoroughly do your own due diligence and talk to a licensed investment adviser prior to making any investment decisions. Junior resource companies can easily lose 100% of their value so read company profiles on www.SEDAR.com for important risk disclosures. It's your money and your responsibility.