In his latest letter to investors hedge fund manager David Einhorn penned two paragraphs explaining why he continues to own gold:
"Lastly, we continue to own gold. Our sense is that Mr. Trump doesn't hold any core policy beliefs and is apt to change his mind as he sees fit. This will lead to more political and economic uncertainty and less stability. There has been a knee-jerk decline in gold since the election, as investors presume that higher short-term rates are good for the dollar and bad for gold.
Ultimately, we believe the case for gold is broader: greater economic, geopolitical and policy uncertainties, much wider budget deficits, and the possibility of an inflation problem all support gold (to say nothing of what might be required to redecorate the White House to Mr. Trump's tastes)."
Einhorn's fundamental case for gold makes a lot of sense and I might add the case for gold reaches far beyond the borders of the United States; Europe and Japan's debt & demographic challenges alone make a compelling case for gold.
Turning to the chart gold looks bullish after a nearly $100/oz rally from the mid-December doldrums:
Gold (Daily)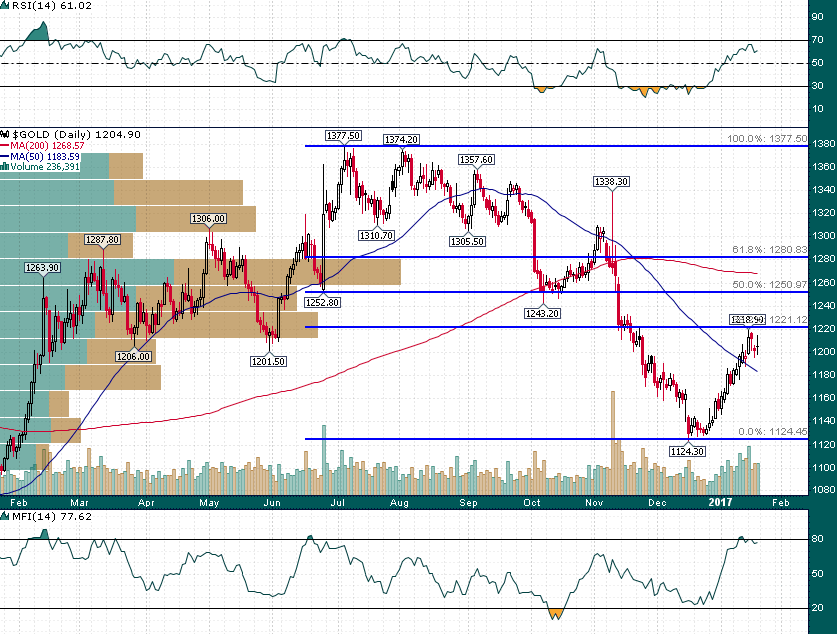 Above ~$1220 gold could make a quick trip to test a much bigger level of confluence near $1250. Meanwhile, Money Flow (MFI) and Relative Strength (RSI) are both poised in bullish territory and as long price stays above $1195 a bit of further consolidation in the low $1200s will likely serve to build additional energy for any eventual upside breakout.
An additional bit of bullish evidence are the number of mining share charts that have bullish setups (cup & handles, rounding bottom patterns, etc.). As I mentioned a week ago a rally above $1250 in gold could send mining shares soaring, we might have an opportunity to see this scenario play out in Q1 2017.
DISCLAIMER: The work included in this article is based on current events, technical charts, and the author's opinions. It may contain errors, and you shouldn't make any investment decision based solely on what you read here. This publication contains forward-looking statements, including but not limited to comments regarding predictions and projections. Forward-looking statements address future events and conditions and therefore involve inherent risks and uncertainties. Actual results may differ materially from those currently anticipated in such statements. The views expressed in this publication and on the EnergyandGold website do not necessarily reflect the views of Energy and Gold Publishing LTD, publisher of EnergyandGold.com. This publication is provided for informational and entertainment purposes only and is not a recommendation to buy or sell any security. Always thoroughly do your own due diligence and talk to a licensed investment adviser prior to making any investment decisions. Junior resource companies can easily lose 100% of their value so read company profiles on www.SEDAR.com for important risk disclosures. It's your money and your responsibility.