What BREXIT Means For Gold
One of the most surprising events in recent market history is taking place with a shocking British vote to leave the EU. Markets were quite certain that Britain would remain in the EU just a few hours ago and have since been rocked by a stunning vote turnout to exit. The market implications of a BREXIT remain highly unclear, however, they are surely far reaching.
Here's how markets are responding so far:
S&P futures down more than 3% from today's close.
Gold in US dollar terms has vaulted back above $1300. However, gold priced in pound sterling has rocketed higher a truly stunning 9%+ due to the GBP collapsing.
Treasury bond futures are soaring as investors rush to safety (yield on 10-year UST down a whopping 20 basis points since 6pm EST to 1.53%).
GBP/USD (pound-US dollar cross, also known as 'cable') has traded as low as 1.3646 after trading above 1.5000 earlier in the day.
While the level of uncertainty couldn't be much higher given that these truly are uncharted waters, there are a few things that we can deduce with a high degree of certainty:
A BREXIT is a major negative for the euro currency and of course the pound.
BREXIT is a negative for equities.
Central banks will be on the wires within a few hours trying to douse liquidity on the flames of the smoldering wreckage that is the European financial system and the concept of "one Europe".
Gold is a huge winner from a BREXIT as once again investors are reminded that no paper currency is sacred and the global financial system is glued together with wood glue that can easily be torn apart by a disenchanted voting populous.
I find today's sudden turn of events to especially timely because I was reading one of my favorite investing books, "The Most Important Thing" by Howard Marks, on a flight this afternoon. I was reminded of the chapters on risk, particularly how investors consistently underestimate risk during relatively calm financial market periods. Tonight investors are being reminded of how quickly risk can rear its ugly head after an extended streak of more than 50 trading sessions without a 1%+ decline in the S&P 500. Unless something drastically changes in the next few hours that streak looks to come to an end tomorrow:
S&P 500 (Daily)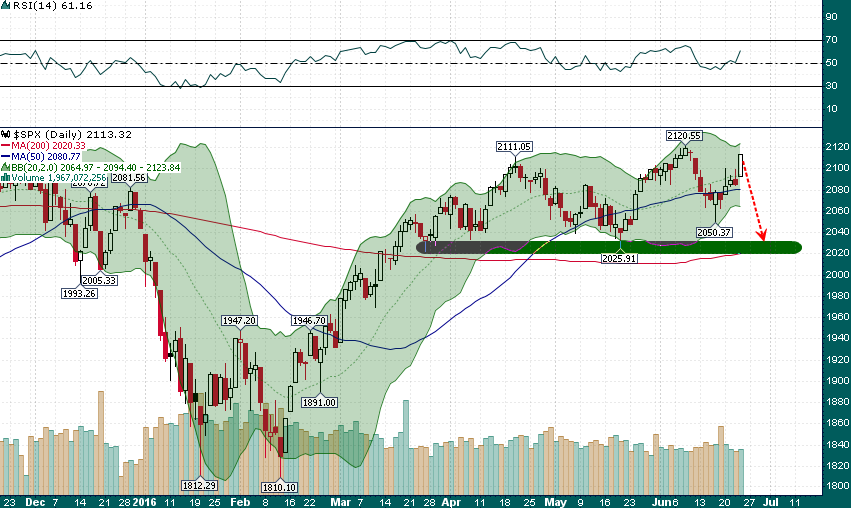 With S&P futures down 70+ points, support near 2025 and the rising 200-day moving average could come into play tomorrow.
Meanwhile gold in US dollar terms looks like it has a good chance of testing last week's high at $1319:
Above $1319 the summer of 2014 high at $1347 comes into play.
The situation is still fluid and the markets are sure to be fast moving. However, risk is very much back in play and gold is sure to be a big beneficiary, not only from increased financial market volatility but also from central banks desperately priming the liquidity spigots in a futile attempt to stabilize something that is inherently unstable.
DISCLAIMER: The work included in this article is based on technical charts, current events, interviews, and corporate press releases. It may contain errors, and you shouldn't make any investment decision based solely on what you read here. This publication contains forward-looking statements, including but not limited to comments regarding predictions and projections. Forward-looking statements address future events and conditions and therefore involve inherent risks and uncertainties. Actual results may differ materially from those currently anticipated in such statements. The views expressed in this publication and on the EnergyandGold website do not necessarily reflect the views of Energy and Gold Publishing LTD, publisher of EnergyandGold.com. This publication is provided for informational and entertainment purposes only and is not a recommendation to buy or sell any security. Always thoroughly do your own due diligence and talk to a licensed investment adviser prior to making any investment decisions. Junior resource companies can easily lose 100% of their value so read company profiles on www.SEDAR.com for important risk disclosures. It's your money and your responsibility.