Crucial Week Ahead For Equities
Since first surmounting the 2100 level in early 2015 the S&P 500 has peaked above 2100 on six different occasions (including last month) and in the process churned a tremendous amount of volume during consolidations just below these peaks:
S&P 500 (Daily)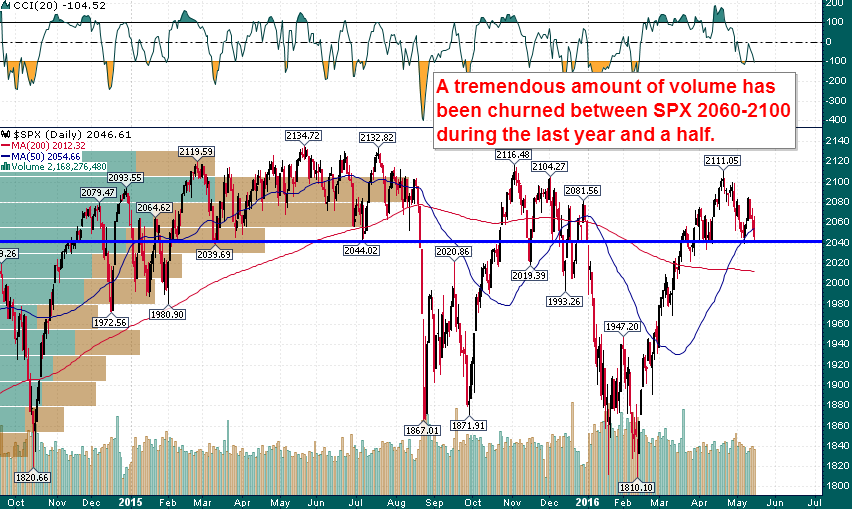 Friday's close is especially interesting because the 2040-2050 area in the S&P has proven to be important support on numerous occasions during the last year and a half. One has to wonder if the 2040 level is decisively breached yet again will all the longs above 2050 during the last year and a half finally capitulate given that price has been rejected above 2100 so many times.
With two sharp market corrections in the last year there are probably fewer 'trapped' longs than there would normally be otherwise. However, the fact remains that the market hasn't made any progress in the last 18 months and the SPX 2100 level appears to be a titanium ceiling until proven otherwise.
Next week appears to be crucial given where equities ended last week. The following Presidential election year chart courtesy of LPL Financial shows headwinds for equities through the end of the month and a solid upward bias for the rest of the year despite pullbacks in July and October: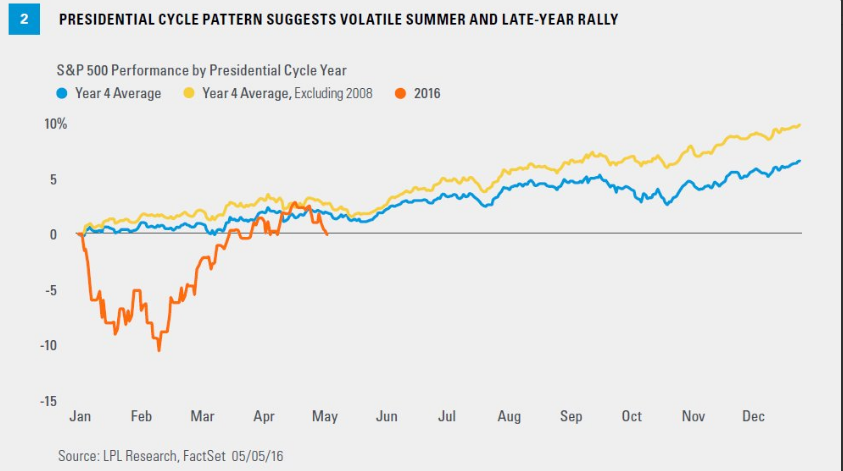 DISCLAIMER: The work included in this article is based on SEDAR filings, current events, interviews, and corporate press releases. It may contain errors, and you shouldn't make any investment decision based solely on what you read here. This publication contains forward-looking statements, including but not limited to comments regarding predictions and projections. Forward-looking statements address future events and conditions and therefore involve inherent risks and uncertainties. Actual results may differ materially from those currently anticipated in such statements. The views expressed in this publication and on the EnergyandGold website do not necessarily reflect the views of Energy and Gold Publishing LTD, publisher of EnergyandGold.com. This publication is provided for informational and entertainment purposes only and is not a recommendation to buy or sell any security. Always thoroughly do your own due diligence and talk to a licensed investment adviser prior to making any investment decisions. Junior resource companies can easily lose 100% of their value so read company profiles on www.SEDAR.com for important risk disclosures. It's your money and your responsibility.