It's Time To Lighten Up On Gold
Since breaking higher from a bullish pennant pattern on March 3rd gold has run into stiff resistance above $1275:
Gold (Daily)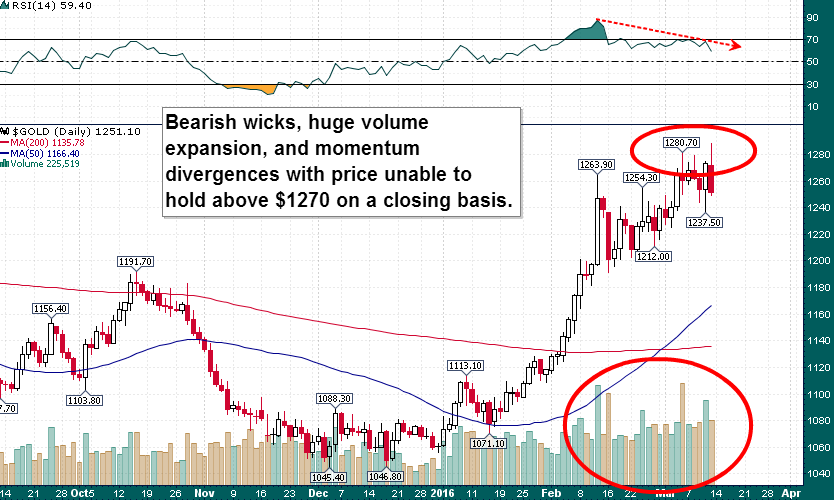 The bearish divergences have begun to pile up and the volume & volatility expansion we have seen since the huge breakout day on February 11th is consistent with a topping process. Today's bearish reversal is also troubling for a couple of reasons:
The US Dollar Index was essentially flat on the day
Most commodities were significantly higher on the session and gold (-1.73%) significantly underperformed silver (-.74%)
Gold made another marginal new high ($1287.80) which was resoundingly rejected and price closed at session lows
Perhaps the most bearish element of the current situation is the ~$25 billion short position by commercial speculators in gold futures:
This is the 2nd largest commercial short position in gold futures in the last three years (February 2015 commercial speculators reached nearly $26 billion in net notional short exposure). While the CoT data is far from an exact market timing tool, this sell signal has been building for weeks and it is now simply too loud to ignore. The commercials are as bearish as they've been in quite some time and the technical picture has deteriorated significantly in the last week. It's time to lighten up on gold.