Launching CEO Technician Premium With Morning Market Email and Exclusive Trading Room
We are proud to announce the launch of the CEO Technician Premium Service which includes:
A morning market email offering market analysis & commentary before each trading day. In addition, the morning email highlights our best trading ideas for each before the market open.
Access to the CEO Technician Trading Room where trade ideas, actionable setups, and analysis are disseminated in real time around the clock.
A Weekly Letter sent out to subscribers each weekend reviewing the previous week and preparing for the week ahead. This includes trade reviews and more detailed analysis of potential trade setups for the week ahead.
The trading room on CEO.CA (formerly chat.ceo.ca) has existed for more than six months and CEO Technician has put together an impressive track record consisting of more than 60 trades taken in real time with stop losses resulting in a net compounded gain of more than 25% during a time period in which the major equity indices were down and most commodity sectors suffered heavy double-digit losses.
The CEO Technician Morning Market Email has been sent out to a select group of clients for the last month. Here are a couple of excerpts from recent morning market emails to give readers a sense of what they can expect:
2/17/2016

Another chart that came to my attention yesterday is the failed breakdown and strong upside reversal in YHOO:

Last week's failed breakdown below ~$27 sets the stage for a powerful upside reversal.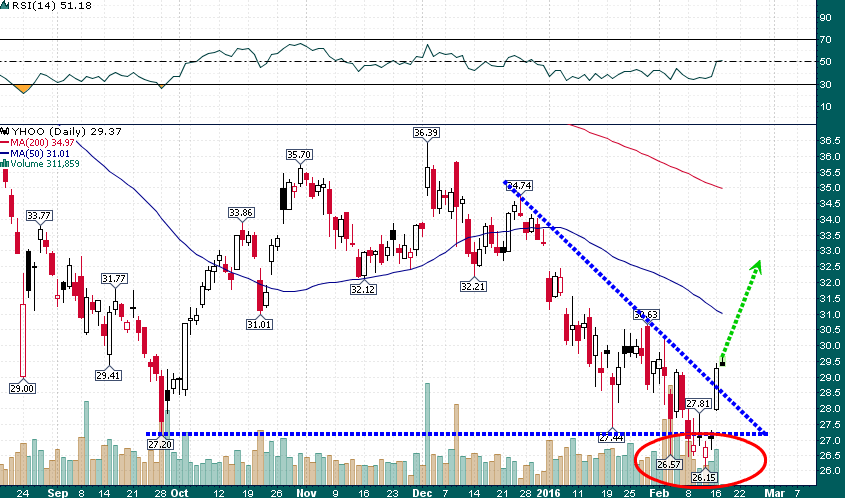 Moreover, yesterday's strong rally broke above the recent downtrend, adding more weight to the bullish setup. $31 is the next key upside level of interest, followed by the open gap near $33. ~8% short interest should add some juice to any rally."

YHOO has rallied more than 15% in the past few weeks and subscribers have captured the vast majority of that move.

3/1/2016

Finally, we took a long position in BBRY at $7.70 yesterday based upon some unusually bullish options activity and a breakout above a key resistance level (~$7.50). With roughly 15% of the float short there is plenty of fuel to drive further upside should the momentum continue to build."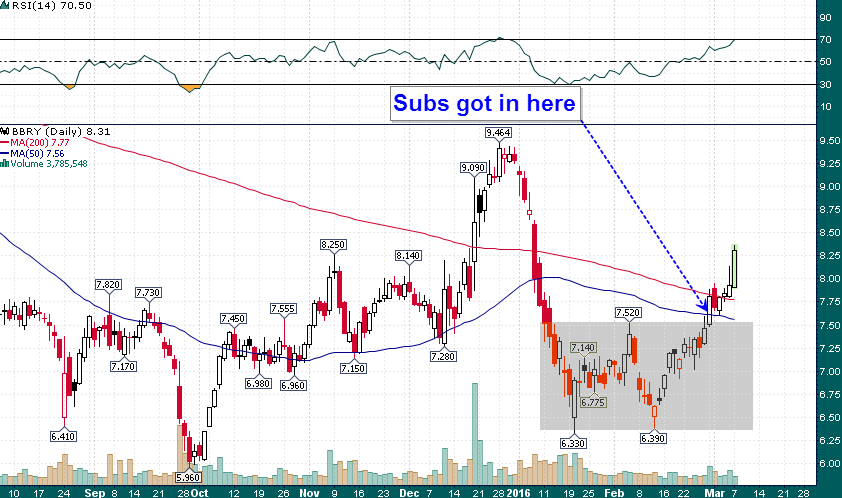 BBRY is up ~8% since last week's long entry signal. 
Don't just take our word for it
"CEO Technician often uncovers new information and charts of interest that help me put the markets in context and he's great at communicating that information. His writing has provided me with a good introductory education to technical analysis, which I value. Pros can use his service for new ideas and beginners can listen in and get direct feedback – with extreme caution. Only professional investors or investors who have independently done their own due diligence and consulted an investment advisor should follow the trade setups. With that disclaimer said, I'm never giving up my CEO Technician subscription and encourage you to subscribe today." Tommy Humphreys, Founder, CEO.CA
"CEO Technician has a keen sense of the market and gives anyone looking to make money long term in the market a great possibility for doing so. His morning emails are a perfect way to keep a pulse on what is happening in the markets and the worldwide macroeconomic picture. You can tell in his writing that he understands this and has a passion for markets and macroeconomics." Christopher DeSanti, transformational trainer & investor
There are an abundance of opportunities available for shrewd investors & traders. The CEO Technician Premium Service is committed to our subscribers winning in the market and most importantly, effectively managing risk and avoiding pitfalls. Click the button below to begin receiving the CEO Technician Morning Market Email and gain access to the Premium Trading Room. A monthly subscription is available for $50/month with annual subscribers receiving a 17% discount for an annual rate of $500.
Past performance is not indicative of future results. CEO Technician Premium is provided for informational and entertainment purposes only. We are not investment advisors and offer no investment advice.