Noted market technician and fund manager J.C. Parets is a long time friend of CEO.CA and EnergyandGold.com. We had the pleasure of sitting down with J.C. and picking his chart filled brain as to what he's seeing right now across global markets and asset classes.
As is his style, J.C. did not hold back and offered up some bold and counter to consensus views. Without further ado here's J.C.:
CEO Technician – I just read your latest post on the current state of the US stock market in which you basically say that there are much better places to be invested. Are you thinking we are going to be rangebound for the rest of the year? What do you make of the 2011 analog in the S&P?
J.C. – I'm not really a big analog fan. They always work until they don't. It's not that it's different this time, it's different every time. As far as the S&P is concerned I must say that I'm really impressed with the recent strength and the fact that we got back above the 2040 level in the SPX. Going forward I'm expecting more divergences between individual sectors within the market. We have already seen a large discrepancy between the transports (-9% YTD) and the Nasdaq 100 (+10% YTD) and I think we will see more of this with some sectors vastly outperforming while other sectors vastly underperform. We don't want to be trading the averages here, we want to focus more on the leading sectors.
CEO Technician – Well that sets up my next question. What are your favorite and least favorite equity sectors?
J.C. – We like energy relative to the S&P500 (OIH, XLE, XOP) and want to be short of precious metals and the miners as long as gold is below $1143.
Gold (Weekly)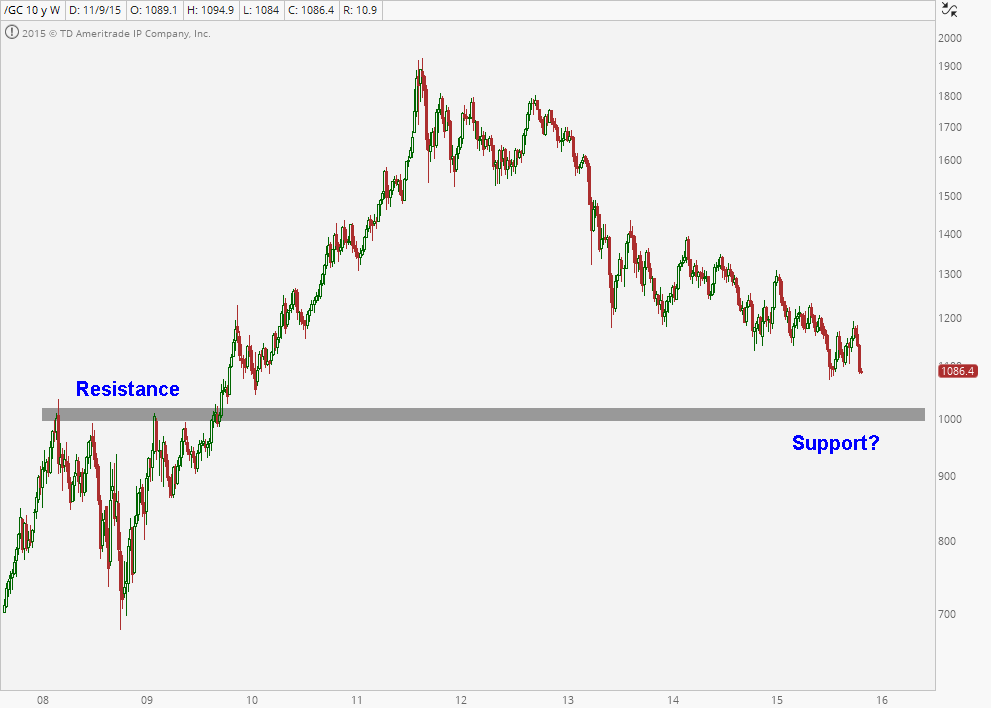 CEO Technician – There has been a lot of commentary and opinion regarding what the Fed will do next and where interest rates are heading. It looks like the long end of the curve (10s and 30s) is at a crucial inflection point and you've been incredibly accurate on bonds and rates during the last couple of years, what are you thinking here?
J.C. – If we break out above the ~2.40% yield level on the 10-year Treasury Note that will have very bullish implications for yields (bearish for bonds). However, that's a huge IF. I'd actually take the other side.
I don't like shorting bonds here. In fact, I like getting long Treasuries right here. We are at the downtrend line drawn from the December 2013 high, and more importantly the  2.30%-2.40% yield is major support/resistance going back several years:
10-year US Treasury Note Yield (Weekly)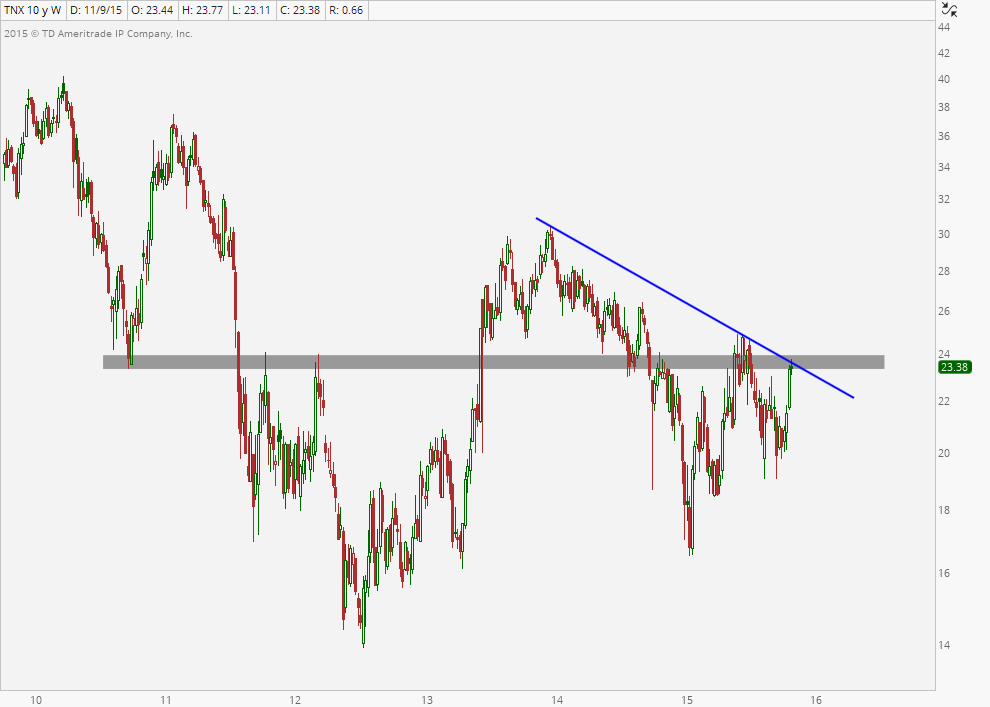 I want to be long Treasuries as long as the yield on the 10-year is below 2.40%. If we break-out above that yield level then all bets are off.
Also if you look at TLT there's a lot of price memory down here, we got a monster rally off these levels back in September. I think you step in and get long bonds here. However, at the same time I think this is a range and you have to be a seller up at ~$124 on TLT.
CEO Technician – So my next question is where are we at in the longer term cycle in bonds? Are we still in a secular bull market in bonds or have we begun a bear market?
J.C. Parets – We have data going back 200 years in rates and we know that it takes decades to make a bottom in interest rates. Right now the trend is still your friend and the secular bull market in bonds is still intact until price proves otherwise.
CEO Technician – What are you seeing in precious metals?
J.C. Parets – For gold the trend is lower structurally, the trend is lower tactically, so I think it keeps heading lower. With that being said we've seen a $100 drop in basically a straight line so we could certainly see a bounce over the short term. I think you fade that bounce and gold drops below $1000 and probably heads to the mid $900s over the next few months. Silver too, silver goes a lot lower.
CEO Technician – What are your favorite charts right now?
J.C. Parets – I really like energy (OIH, XLE, XOP) relative to the S&P 500. This is more of a theme for me based on the idea that crude oil has bottomed and markets that are sensitive to oil (Canadian dollar, Russia, etc.) are also potentially in the midst of a major bottoming process.
XLE vs. SPY (Weekly)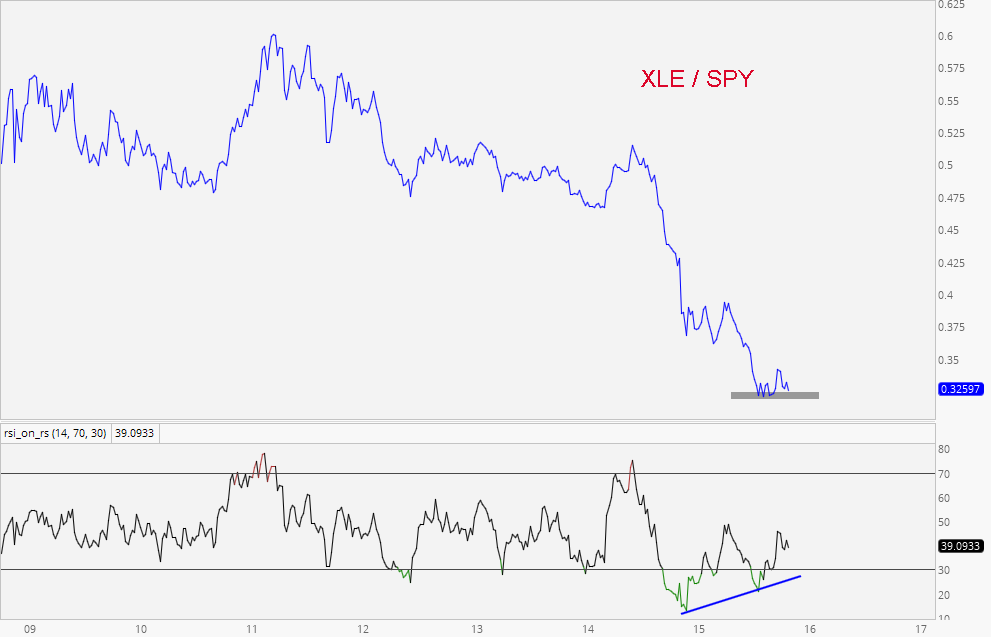 CEO Technician – Tell us more about your view that crude oil has put in a major low.
J.C. Parets – WTI crude oil hit our downside target already ($38) which was based on the 161.8% Fibonacci extension of the 5-year consolidation from 2010 to last year's break lower. We literally kissed that target and reversed. Also, on that bottom ($37.75) we put in a bunch of bullish momentum divergences. So my thesis is that crude oil has bottomed and I like energy on a relative basis.
WTI Crude Oil (Weekly)
The tells I'm looking at are RBOB futures (unleaded gasoline) and heating oil futures, as long as RBOB and heating oil stay above their 2015 lows and begin to make higher lows/higher highs then the bullish energy thesis remains intact. However, if we break down to new lows then this thesis will likely be nullified.
CEO Technician – Final question, what are your thoughts on the outperformance in the Nasdaq-100 (QQQ) and the five-fold increase we have seen since the 2008/2009 lows?
J.C. Parets – I think you can be short the QQQ if it's below the July highs (~$114). Right or wrong this is an attractive trade from a risk/reward standpoint. It's not so important that I know where the Nasdaq is going, with this trade I'm going to know whether I'm right or wrong very quickly.
QQQ (Weekly)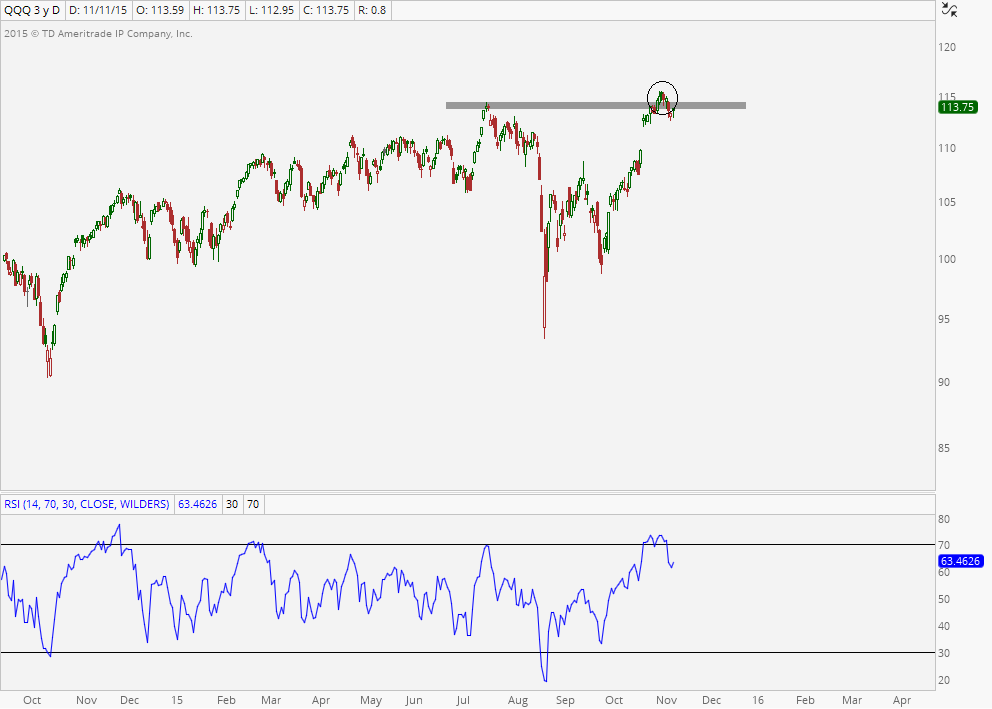 As always we want to thank J.C. for sharing his market insights and charts. His no nonsense, process driven approach is refreshing and it will be interesting to see how some of his market views play out over the next few months.
J.C.'s blog is essential reading for any serious market participant and to request more information about managed funds head over to www.eaglebaycapital.com or email J.C. at jc@eaglebaycapital.com.