U.S. Housing Continues To Be Exceptionally Affordable
After recovering from the U.S. housing bubble and Global Financial Crisis, U.S. residential housing prices have enjoyed a solid rebound during the last few years:
S&P/Case-Shiller 20 City Index
While U.S. residential real estate prices are back up near all-time highs the picture looks much different than it did in 2006 from an affordability and sustainability standpoint. An interesting chart slide courtesy of JP Morgan: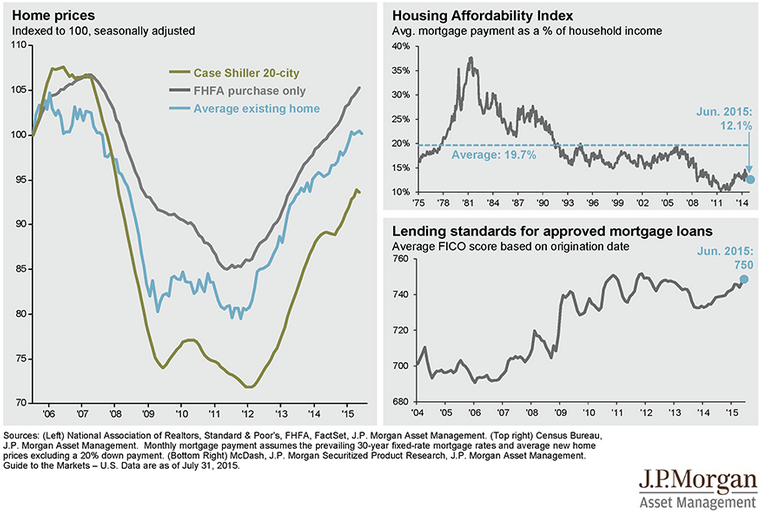 The key takeaways from the above charts are:
Housing is still exceptionally affordable despite the recent increase in home prices
Lending standards are much more stringent than they were during the bubble years (2004-2006)
The outlook for U.S. residential real estate is promising given that the recent rise in home prices has taken place during a time when lending standards have been quite stringent.  Moreover, housing affordability remains well above the historic average which offers considerable room for further price appreciation.
Here are a few catalysts that could lead to additional demand and price appreciation for U.S. residential real estate:
Lenders lower lending standards which increases the pool of buyers
Real estate becomes a 'safe-haven' asset class once again as equity market returns turn lackluster after years of double-digit rises (since 2009)
Turmoil stemming from China's economic slowdown keeps the Federal Reserve at bay maintaining an extremely accommodative monetary policy stance which leaves U.S. affordability at record levels for an extended period of time (in large part due to historically low mortgage rates)
For South Florida in particular, increasing instability in key Latin American markets, Miami's increased importance following eventual ratification of the Trans-Pacific Trade Agreement, completion of the Panama Canal expansion and the economic stimulus it is forecasted to bring to the region.
Even after a strong few years Miami property prices remain 30% below their 2006 bubble peak:
Co-authored with Maggie Sadowska of Mega Lux Homes