An exciting mobile technology company is listing on the TSX Venture this morning. Siyata Mobile will start trading under the symbol SIM. Siyata Mobile develops and sells advanced cellular communication systems for mobile businesses, The focus is on the growing vehicle market and providing communication devices for global corporate vehicles and fleets (trucks, ambulances, trains, police cars, fire departments, taxis etc.)
Siyata is well positioned to be a dominant player in the industry as a replacement device for ageing technologies and networks. Three products will be offered – Voyager, Truckfone, and Bagfone. Over 125,000 devices have already been sold worldwide with multiple repeat customers (cellular providers).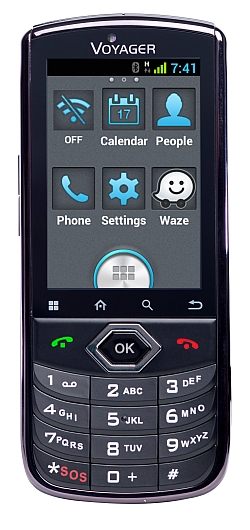 Siyata's lead product, Voyager is currently the only connected vehicle device in the world that offers the following features voice, data and two way radio (Push To Talk).
Voyageur currently sells for $800 a unit and generates healthy margins. ~10,000 units have already been installed.
The potential for reoccurring revenues comes from software alliances and device upgrades which occur every 18-36 months.
Voyager was researched and developed in Israel and already has strong local sales. The company is led by a proven and experienced management team with loads of experience in the space. The previous company Accel grew from 0 to $30 million in sales and generated a 92% growth rate between 2012-2014.
The next step will be to generate international sales. Siyata will start by partnering with major cell operators and distributors in Canada in 2015. In 2016 the target will be the large US market. The market size worldwide is currently estimated to be $7.2 billion.
The goal is to sell 50,000-100,000 devices annually by 2017.
Siyata's technology is an improvement on ageing technologies and is designed with an emphasis on audio quality as well as ease of use. The Siyata solution is the only vehicle all-in-one cellular based platform for voice, data, fleet management, PTT, applications and more.
In the short time since first being introduced to the Truckfone product I have been intrigued by its unique collection of capabilities… The first application that comes to mind would be for clients needing communication in permanently installed locations where signal strength is of prime concern…Beyond the obvious voice communication needs, the Truckfone will soon be supporting our Bell PTT service which will make it part of a truly viable alternative for clients wishing to migrate away from a conventional two way radio solutionto a cellular- based system comprised of portable devices and fixed devices .- Pat Morrison, Worldlynx – Canada's largest independent Bell dealer
The opportunity for investors
Siyata presents an interesting opportunity for investors as shares begin trading. SIM has 3 keys that set it apart from competitors an experienced management team, proven technology with competitive advantages, and a global growth opportunity (huge market).
The company already has proven sales generating $7.4 million in revenue in 2014 with a 92% actualized growth rate from 2012-2014.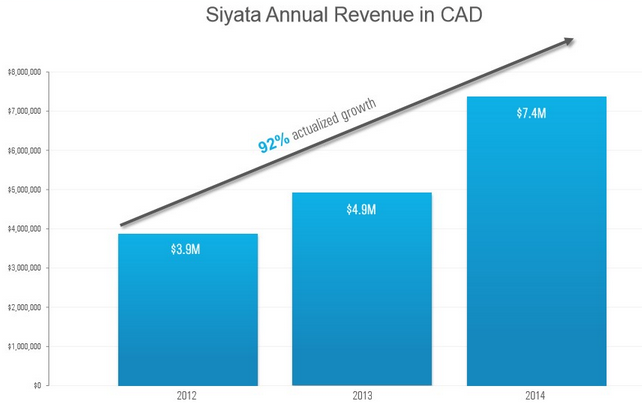 If Siyata can successfully penetrate the large North American market ($4.9B) sales would substantially increase leading to a much higher share price.
"Globally, the market for LMR systems was valued at USD 10.57 Billion in 2013 and is expected to grow at a CAGR of 16.9% from 2014 to 2020 to reach USD 30.6 Billion in 2020." Vehicle based LMR is ~44% of the market."
Transparency Market Research (Sept. 2014)
Siyata has the team, product, and market opportunity the only thing left to do is execute on the growth plan.
SMI will have 59,587,337 sharse out after a name change (Teslin Resources), RTO, and roll back. 33,333,333 of the shares will be held in escrow which were issued to acquire the Siyata Mobile Group.
Siyata is well set up with $4 million in the treasury raised at a valuation of 30 cents a share with a half warrant exercisable at 60 cents for 2 years.
For more please on Siyata please visit www.siyatamobile.com or call Freddie Leigh at Kin Communications (604-684-6730).
EnergyandGold.com is long Siyata stock and took place in the recent private placement and this makes us biased in our coverage of the company. Small technology stocks such as Siyata Mobile are highly volatile and risky. They are not suitable for most investors. This article is not a recommendation to buy or sell any security. Always do your own due diligence and consult a licensed investment advisor before making any investment decisions. Visit Siyata Mobile's profile on www.SEDAR.com for important information and risks.