Cash in on Cleantech with Graphite One
A global shift to cleantech is absolutely going to change the world. It's also going to make many people very rich. One way for investors to cash in on the green energy movement is to invest in graphite.
What most resource investors aren't aware of is that graphite has been placed on the United States list of critical and strategic materials. And the demand for graphite is expected to rise as the industrial mineral is being used for more and more applications.
Currently the main use of graphite is in steel and refractories (41%) followed by carbon brushes and batteries (21%), automotive parts (14%), lubricants (14%, and other (10%).
Growth in demand for graphite is expected to come from increased use of lithium ion batteries and stationary storage batteries. Serial entrepreneur Elon Musk is pushing forward with construction of a $5 billion dollar Gigafactory in Nevada. Tesla's premium electric vehicles and the newly announced Powerwall (the rechargeable lithium ion power battery for home use) are expected to be in heavy demand which means more graphite, lithium, and cobalt will be required.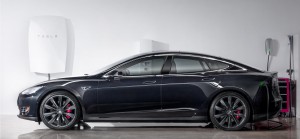 Benchmark Mineral Intelligence has estimated that each Powerwall battery alone will require 16kg of synthetic graphite or 16kg of spherical graphite derived from 40kg of flake graphite concentrate. Delivery of the Powerwall is expected to begin this summer and reports are that 8000 units have already sold.
Tesla must secure a supply chain of the specialty metals used for its products including graphite, lithium, and cobalt. And it makes sense for the company to look for sources close to home. China is currently the number 1 supplier of graphite but that supply could be constrained at any time.
Graphite One (GPH:TSXV) is advancing its Graphite Creek deposit in Alaska with a goal of entering production in 2018. The Graphite Creek deposit was discovered during the gold rush of the late 1800's and was in production from 1907 to 1920 producing 580 tonnes of hand sorted graphite.
Since acquisition in January 2012, Graphite One has spent $14 million on developing Graphite Creek, which is the largest known flake graphite deposit in North America. The project is strategically located in Nome, sitting ~1.6 miles from an inlet which provides easy access to a pacific port and a global market.
What this means for Tesla is that the product could be barged down to Seattle fairly quickly and put on rail to Nevada in a couple days. This is a huge advantage as shipments from China take 6-8 weeks. In addition, China is starting to shift away from its position as a low cost supplier in international markets, something that may create a vacuum in the supply of many critical minerals, not just graphite.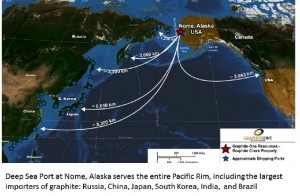 The Graphite Creek project has many attractive characteristics including high grade graphite at surface with good continuity. The table below shows the current resource which is still open for expansion along an 18km conductor. The resource is huge and is currently a couple times larger than any other project in North America.
A preliminary economic assessment (PEA) is expected to be out in Q3/Q4 this year which will be a key catalyst for investors. The PEA was originally planned for Q2 but has been pushed back to incorporate new information (a 180 page report) from TRU.
TRU is a technology company that has worked in the graphite and lithium space for the past 25 years.They are key member of the team and eventually will help Graphite One to build a manufacturing facility to produce graphite at the highest level.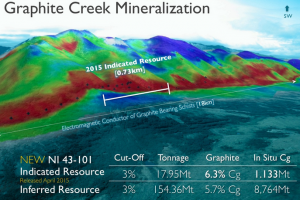 TRU has coined the graphite at the project 'STAX' graphite which is currently unique to anything on the market. This means that the graphite coming out of the ground is already in a spheroidal shape which potentially means lower costs on the end products for manufacturing.
Following the PEA the attention will focus on permitting. There are no graphite mines currently in operation in the US and there haven't been any in the past 25 years, meaning that the US has to import 100% of its graphite.
The permitting process is underway and is expected to take 2.5 years. As with any mining project, permitting will be a challenge, but management feels they have strong support from the political side of the equation. Alaska has stated that they are 'open for business', and a recent example of the state's receptivity to mining is the announcement of potential financing for Ucore Rare Metals rare earth project by Alaska Industrial Development and Design Authority (AIDEA).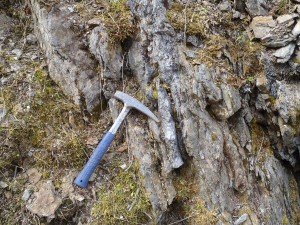 Graphite One also feels they have local support for the project. The company has had many meetings with locals and considers the project a win/win situation for everyone involved.
Management has coined the term "designer mine" for the Graphite Creek project. The project will differ from a large gold mine in that it will move roughly 1 million tonnes of ore per year to produce between 50,000-60,000 tonnes of graphite. For comparison's sake some large gold mines move a million tonnes of ore per week.
Graphite One's strategic goal is to develop into the premium American supplier of large flake graphite to global markets. In the North American markets specifically the focus will be on developing a product that will compete in the high end battery market.
Management has also hinted that they are speaking with potential joint venture partners to help with the costs of developing the project.
The graphite market is a small niche market which has the potential to be very profitable for investors. Graphite One is setting up nicely to take advantage of increased demand for graphite, and thanks to Elon Musk and the cleantech movement, the Company's future looks bright.
Graphite One Resources current stock information:
Current share price: $0.10
52 Week High/Low: $0.185/$0.07
Shares Outstanding: 167.6M
Market Cap: 16.8M
This article contains forward-looking statements that are based on Graphite One Resources current expectations and estimates. Forward-looking statements are frequently characterized by words such as "plan", "expect", "project", "intend", "believe", "anticipate", "estimate", "suggest", "indicate" and other similar words or statements that certain events or conditions "may" or "will" occur. Such forward-looking statements involve known and unknown risks, uncertainties and other factors that could cause actual events or results to differ materially from estimated or anticipated events or results implied or expressed in such forward-looking statements. Such factors include, among others: the actual results of current exploration activities; conclusions of economic evaluations; changes in project parameters as plans to continue to be refined; possible variations in ore grade or recovery rates; accidents, labour disputes and other risks of the mining industry; delays in obtaining governmental approvals or financing; and fluctuations in metal prices. There may be other factors that cause actions, events or results not to be as anticipated, estimated or intended. Any forward-looking statement speaks only as of the date on which it is made and, except as may be required by applicable securities laws, Graphite One Resources disclaims any intent or obligation to update any forward-looking statement, whether as a result of new information, future events or results or otherwise. Forward-looking statements are not guarantees of future performance and accordingly undue reliance should not be put on such statements due to the inherent uncertainty therein.