On Monday we highlighted in two different posts the precarious equity market situation and expressed concern that AAPL had a few too many fans among the retail crowd heading into its 1st quarter earnings report. We even put on a short trade in AAPL near the close on Tuesday (shared via chat.ceo.ca in the 'trading room') when it was clear that AAPL was printing a large bearish engulfing candlestick outside its upper Bollinger band on heavy volume:
Since then we have witnessed some fairly brisk follow-through selling and the 2nd daily close below the flattening 50-day simple moving average within the last 10 trading sessions.
A bearish engulfing candlestick in itself isn't immensely notable, however, this one stands out for a number of reasons:
Tuesday morning AAPL opened at a new all-time high
Tuesday's session represents an 'outside reversal' above the upper Bollinger band
Tuesday's large bearish reversal took place on more than 2x average daily trading volume
This most recent all-time occurred with a large momentum divergence (RSI-14 at top of chart) and a light volume build up to it in the days before
As we pointed out in our Monday post retail investor sentiment (as measured by StockTwits) was off the charts bullish ahead of earnings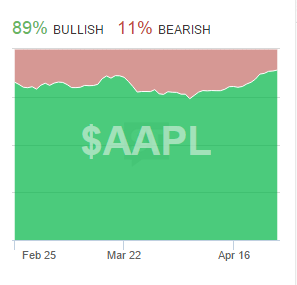 We looked back to see the last time that AAPL posted a similar candlestick outside its upper Bollinger band after making an all-time high and what we came up with should cause AAPL bulls to be even more concerned…
After posting a similar candlestick on above average volume in September 2011 AAPL shares would proceed to correct 16.2% over the ensuing 3 weeks – so far AAPL's pullback only measures 7.4%.
Meanwhile, despite all the bearish technical indications and a 7.4% decline in AAPL shares, investor sentiment is still white hot in AAPL:
And the message volume on StockTwits is absolutely off the charts!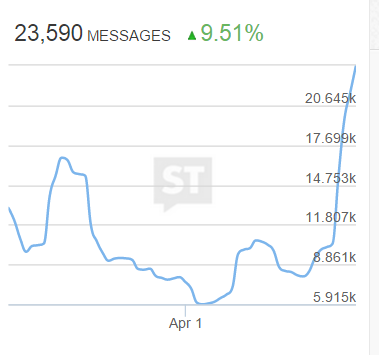 While the technicals indicate more downside is likely ahead over the near term there are no shortage of investors ready to defend AAPL stock and proclaim that this is yet another buying opportunity in the world's largest company:

For his bank's sake we'll hope that @NASDboy is right…