I think I hear a train coming – Africa Energy (AFE.V) edition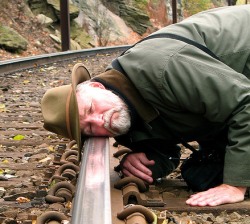 As a writer and investor in venture-capital companies and penny stocks, I probably put a bit too much focus on a company's story.
Generally, I like stories that package well. This is all about scalability of the business-model and management track record.
I also like stories that aren't well known or being told at the moment. A lack of storytelling means the shares might not be getting much attention. And as we all know, share price is all about supply and demand.
"Promotion is a wonderful thing, after you're long," accomplished speculator Rick Rule has said on this subject.
I like to get in before the CEO starts telling the story to anyone that'll listen, like we did with Niocorp at 15 cents back in Dec 2013.
The real reason to invest in venture capital companies and penny stocks is to be involved in the wealth creation of company building. We want to ride the next Uber or Lundin Petroleum and change our lives in the process.
Venture capital returns can be compared to diamond mines, where just a few of the stones recovered make up the majority of the returns. That's why VCs typically take a basket approach, and know they are making very high risk bets that most likely will fail.
Personally, having seen enough junior companies bounce up and down like yoyos, I believe the hardest part about finding ten-baggers is holding on when you're in the money. You need 1000%+ winners once in a while to justify being in this business.
This all brings me to a new story that I'm looking into, right under all of our noses. I haven't finished my due diligence yet, though I'll likely be buying a small, introductory position at the open this morning. The current share price is looking a bit too good to be true.
There's an African oil exploration guru named Jan Maier who made several economic discoveries with Energy Africa, which then sold to Tullow, a major African oil and gas producer. Mr. Maier had been with Tullow for most of the past decade, and unfortunately, Tullow is cutting back its exploration efforts to focus on the development of its existing assets, given weak oil prices.
So a gentleman by the name of Lukas Lundin, arguably the world's most successful natural resources developer, who has made billions by financing exploration and development of commodities when and where nobody else was willing, has stepped up to back Mr. Maier in a new play.
It's called Africa Energy (AFE.V) and was formerly known as Horn Petroleum.
The stock closed at ten cents yesterday, giving AFE a market cap of less than $10 million. After market close, they announced the closing of a $4 million round so the company should be worth a tad under $14 million with $4 million in the treasury.
Africa Energy is a bit of a blind pool. A contact at the Lundin Group tells me they're opening an office in Cape Town for Mr. Maier and his team to begin doing due diligence on assets. They'll be focusing on assets in Sub Saharan Africa, on shore or shallow offshore, according to the latest company presentation.
My contact would like to see AFE buy some production given the current weak state of the energy market, and use the cash flow to invest in exploration.
According to insider filings, Lundin Group's Africa Oil owns about 40% of the Africa Energy stock. Mr. Lundin does not show up as an insider but my contact tells me Mr. Lundin has a substantial position.
The Lundin Group has built several billion dollar energy businesses over the past four decades, including Lundin Petroleum, whose CEO Ashley Heppenstall, sits on Africa Energy's board. Africa Oil CEO Keith Hill is also Africa Energy's chairman.
Here's a Summary from Africa Energy's latest presentation:
Horn Petroleum has rebranded itself to "Africa Energy" and has refocused its efforts to aggressively build a quality portfolio in Africa
Africa Energy has added a new key Exploration VP to the staff and opened a new office in Cape Town, South Africa; plans underway to grow staff there
Africa Energy has added three new Directors to the Board who bring strong leadership and a vast knowledge of Africa, the oil industry, and investment banking
The current downturn in the oil sector provides a plethora of opportunities including the acquisition of distressed juniors, farm-ins, and direct Government negotiations
Africa Energy remains part of the Lundin Group of Companies which have a proven track record for value creation and ability to raise financing in tough markets
Africa Energy has de-emphasized its Puntland Somalia assets and will now focus on aggressively growing elsewhere in Africa
Mr. Lundin has been writing checks of $100 million a piece of late to his Lundin Gold and Lundin Mining. For Africa Energy to move the needle for the Lundin Group, the company will need to grow by leaps and bounds. Personally, I believe Mr. Lundin is not interested in a few cent move in the stock. And given the Lundins track record of value creation in the natural resources space, it would not surprise me to one day see this stock trade in the multiples of dollars.
Of course, this is wishful thinking. I bounced the idea off my friend Keith Schaefer, editor of Oil and Gas Investments Bulletin, and Keith took a pass. Keith explained that he's a momentum investor, and not interested in watching a stock do very little or nothing, for potentially years, on the promise that it wakes up one day, something he definitely felt was possible. After the past tumultuous year in the oilpatch, I understand where he's coming from.
With that said, Africa Energy's story has one of the Gurus of African oil exploration. It's in an energy market that has just about no love for venture situations, which makes it a contrarian opportunity. Additionally, it's backed by arguably the best company builders in the natural resources sector.
There is huge risk that Africa Energy never goes anywhere, or that the next big Lundin winner comes elsewhere in the group's portfolio.
With that said, ten cents for this story seems awfully cheap, and I think I hear a train coming…
Trade at your own risk. This is not investment advice.