I have not kept it a secret that I have been looking for a marginal new low in WTI crude to wash out weak handed bulls followed by a violent upside reversal. Today this scenario happened in a most unexpected way following another huge crude inventory build report from the EIA.
Crude oil inventories at Cushing, Oklahoma reached another record in today's EIA crude inventories report which showed a 9.62 million barrel build:
This is also the largest 10-week inventory increase on record:
Meanwhile, after having fallen six consecutive trading sessions and closing below its lower Bollinger Band on each of the last four sessions, WTI crude rallied 10% on heavy volume :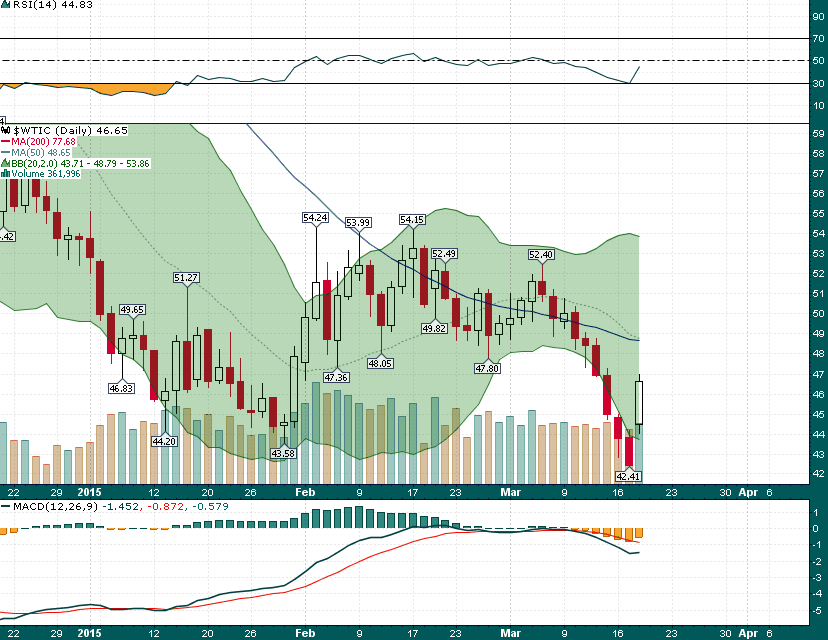 Strong price action on seemingly negative news such as record crude inventories is characteristic of a climactic bottoming event. Only time will tell if this turns out to be the case, however, the scenario of a marginal new low at $42.41 followed by a violent upside reversal meets all the criteria of an intermediate/long term market bottom.
Extreme bearish sentiment and bullish seasonality add weight to the case for a major market bottom in crude. A move back above key support/resistance near $48 would go a long way toward confirming that $42.41 will hold up as the low for some time to come.