Crude Oil: A Very Delicate Balance
As WTI crude oil tests an important area of support/resistance near $49 there are some signs that crude prices could ultimately fall below $40 if certain supply conditions remain present.
The global crude oil supply/demand balance is very delicate to say the least. The following table from Morgan Stanley highlights just how delicate this balance has been during the past few years and how delicate it continues to be: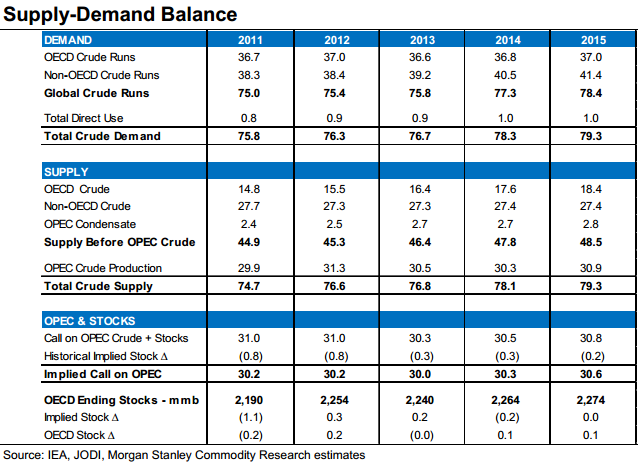 The above demand-supply balance for 2015 hinges on US shale oil production growth slowing during 2015 due to lower prices and demand picking up by 1.2 million barrels also as a result of lower prices. Moreover, strong refinery margins should continue to stimulate demand.
On the supply side the relatively low amount of supply currently shut in also presents a headwind for crude: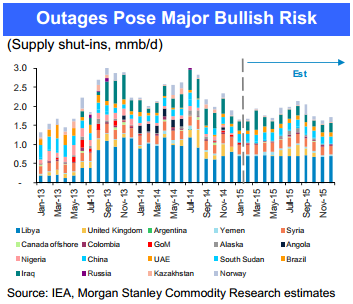 Given the aforementioned tight supply-demand balance any unforeseen supply outages could pose a major upside risk to crude oil prices.
Meanwhile, downside risks to crude prices remain if supply does not substantially react to lower prices and continues to be strong. The upper boundary for global cash costs in the $35-$40 is a realistic downside price objective: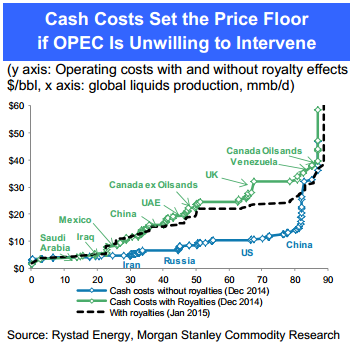 Finally, increased speculative long positioning in both Brent and WTI crude futures is not exactly indicative of the ultimate low being in place: